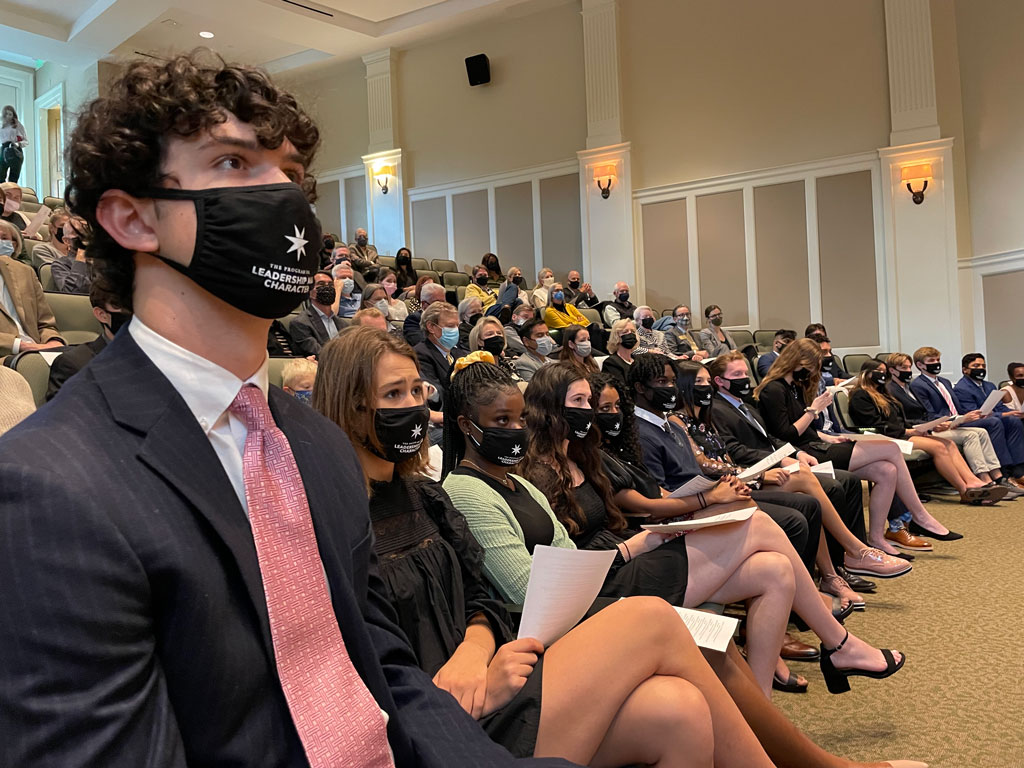 This fall, the Program for Leadership and Character held an initiation ceremony for 22 of its Leadership and Character Scholars. "The purpose of our ceremony today," Executive Director Michael Lamb said in his charge to the Scholars, "is to commend you and to commission you, to invite you into a community of character that will help you become scholars who will lead not just for yourselves but for humanity."
The Leadership and Character Scholars are exceptional students from diverse backgrounds who were chosen to receive a full cost-of-attendance scholarship to Wake Forest University based on their leadership, character, and service in high school. They commit to developing their leadership and character over four years and, in return, receive special mentoring, programming, and opportunities for engagement, such as workshops, retreats, and conversations with visiting speakers and exemplary leaders. "You could not be in a better program from which to launch your life's journey," Dean of the College Michele Gillespie said during the ceremony.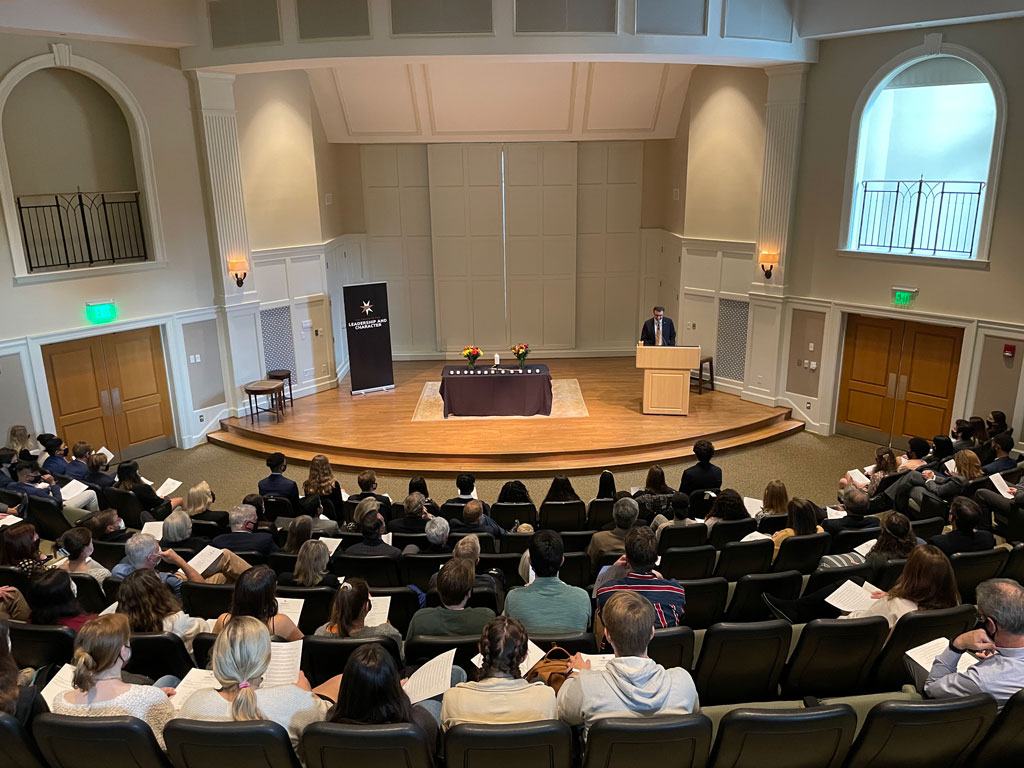 Each year, 10 to 12 new students are chosen to be Scholars. The October 29th initiation ceremony covered first-year students, as well as second-year students who missed out on the opportunity for an in-person ceremony due to the COVID-19 pandemic. More than 100 people attended the initiation at the Porter B. Byrum Welcome Center auditorium, including parents, family members, friends, trustees, donors, administrators, and Wake Forest President Susan R. Wente.
Ann Phelps, the Director of Programming who oversees the Scholars Program, introduced the event. After remarks from Dean Gillespie, program affiliate and Assistant Dean of the Office of University Collaborations Donovan Livingston read "When Giving Is All We Have," a poem by Alberto Ríos. After remarks from Dr. Lamb, Ms. Phelps led the scholars in an oath focused on 12 virtues of character, and each student was given a pin with the Leadership and Character logo on it.
Each Scholar was honored for their individual achievements, but what's more important, Lamb told them, is what they can achieve as a group. "You will not do it alone," he told the Scholars. "You will do it together—as a community of friends committed not just to your own flourishing but to the flourishing of the whole."
---

The Meaning Of The Leadership and Character Logo
from remarks by Dr. Michael Lamb
The guiding light of the star provides direction and offers clarity and illumination on your way.
The seven points represent the seven strategies we use to cultivate character.
The three-pronged arrow symbolizes the leadership that beckons us forward into action.
And that leadership rests on a foundation of four stars, reflecting the four cardinal virtues of character.
The seven-pointed star also holds significance in various religious and cultural traditions, which reflects our deep commitment to inclusive community. When you accept this pin, you join the important work of seeking out diverse perspectives and developing the vision and virtue required to build bridges across differences.