Character can be taught in the classroom, but for it to become integrated into the life and identity of the learner, we offer opportunities for concrete application that enables students to integrate their knowledge, values, and experiences.
Narrative Medicine Cohort
Each semester, the WFU Humanities Institute's Story, Health, and Healing Initiative, in partnership with the Program for Leadership and Character, hosts the Narrative Medicine Cohort. The cohort is open to all WFU graduate and professional school students. Narrative medicine recognizes the central role that "story" plays in healthcare encounters. The cohort introduces participants to a set of writing, reading, and listening practices they can use to process their experiences with illness, healing, and the healthcare system. The cohort is an extension of the Story, Health, and Healing Institute's long standing Narrative Medicine Lunch-and-Learn Program, which is open to all members of the Winston-Salem community and is well attended by practicing area clinicians. The cohort meets monthly, 4 times each semester, online and in-person (lunch is provided at in-person sessions). Cohort members who attend all four sessions and complete two brief surveys and reflection exercises receive a stipend of $200. Applications to join the cohort are available at the beginning of each semester. Please contact Elizabeth Whiting (whitinge@wfu.edu) or Aimee Mepham (mephamam@wfu.edu) for more information.
Flourishing Retreat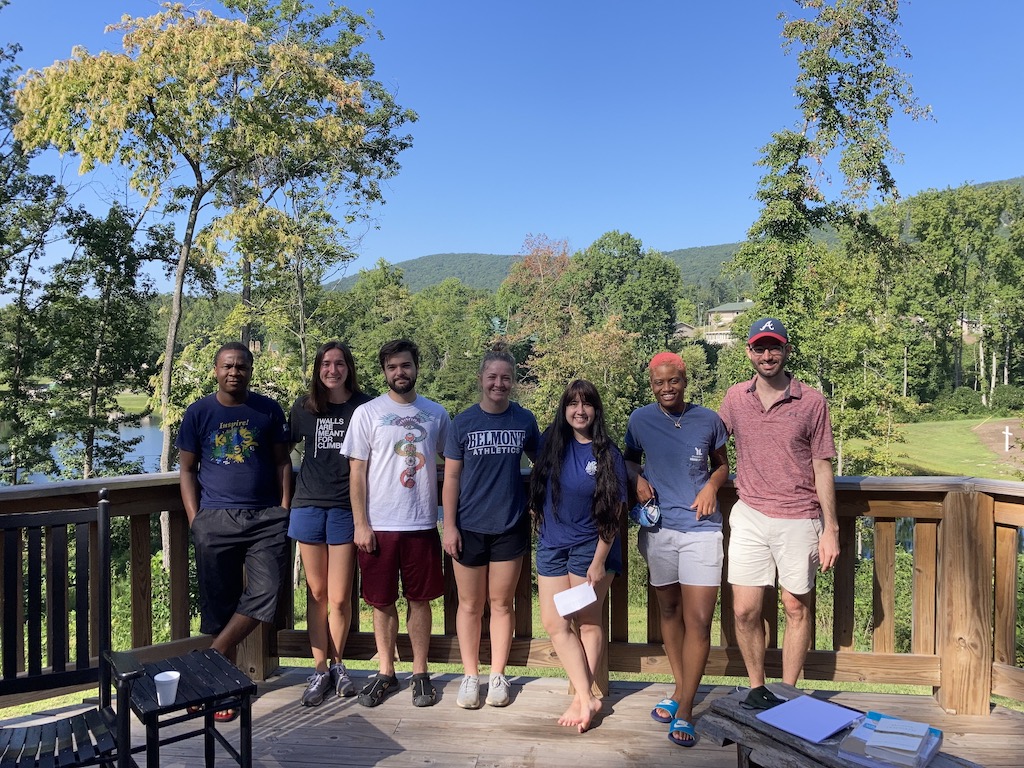 Healthy Conflict Skills Workshops
Navigating conflict in ways that show care and respect for others while effectively advancing personal and/or organizational goals is a key skill of character-based leadership. Program for Leadership and Character staff offer a variety of workshops to help graduate and professional students develop this skill. Past workshops include: Compassion and Conflict: Preparing for Difficult Conversations; Values-Based Conflict with Colleagues; Reflective Listening; and Trust and Conflict Transformation. Workshops tailored to the goals of specific student populations and various time frames (1 hour, 2 hour, half day and full day) are available upon request. Contact Elizabeth Whiting (whitinge@wfu.edu) for more information. Faculty, staff, and student organization leaders may all request workshops.
Graduate Student Book Discussion Groups
The Program for Leadership and Character occasionally hosts book discussion groups that gather graduate students from different disciplines to reflect on a shared social problem and their professions' respective tools for addressing that problem. Often, these book discussions occur in conjunction with major campus events, such as keynote speeches from notable leaders like Bryan Stevenson, criminal justice advocate and author of Just Mercy: A Story of Justice and Redemption, and Ayana Elizabeth Johnson, climate policy expert and editor of the climate feminist anthology All We Can Save: Truth, Courage, and Solutions for the Climate Crisis.
Leadership and Character in the Law Cohort
Wake Forest's motto Pro Humanitate (For Humanity) calls the university to equip students with the knowledge, skills, and character to lead in a complex, and often unjust, world. We take this responsibility seriously in the School of Law, and we are taking steps to become even more intentional about preparing future lawyers to live and lead with integrity. To that end, we have created a Leadership and Character in the Law cohort program that explores the intersections of character, leadership, and the law.
Cohort participants engage in personalized discussions, help facilitate workshops, and receive specialized mentoring provided by the Program for Leadership and Character. Members of the cohort also attend networking events with lawyer-leaders from various sectors and backgrounds and interact with senior leaders from the Wake Forest Law community.
Students interested in joining the Leadership & Character Cohort at Wake Forest Law can email Dr. Benjamin Rigney for more information.