Our Program partners with Wake Forest faculty and staff to help introduce students to leadership and character in the classroom and beyond:
Faculty and Staff Grants
The Program for Leadership and Character offers four sources of funding for faculty and/or staff efforts to support WFU students' development as leaders of character. These programs include: 1) Departmental Grants; 2) Course Development and Redesign Grants; 3) Travel for Interdisciplinary and Community Engaged Learning (TICEL) Grants; and 4) Co-Sponsorships.
Professionalism Pedagogy Coaching Program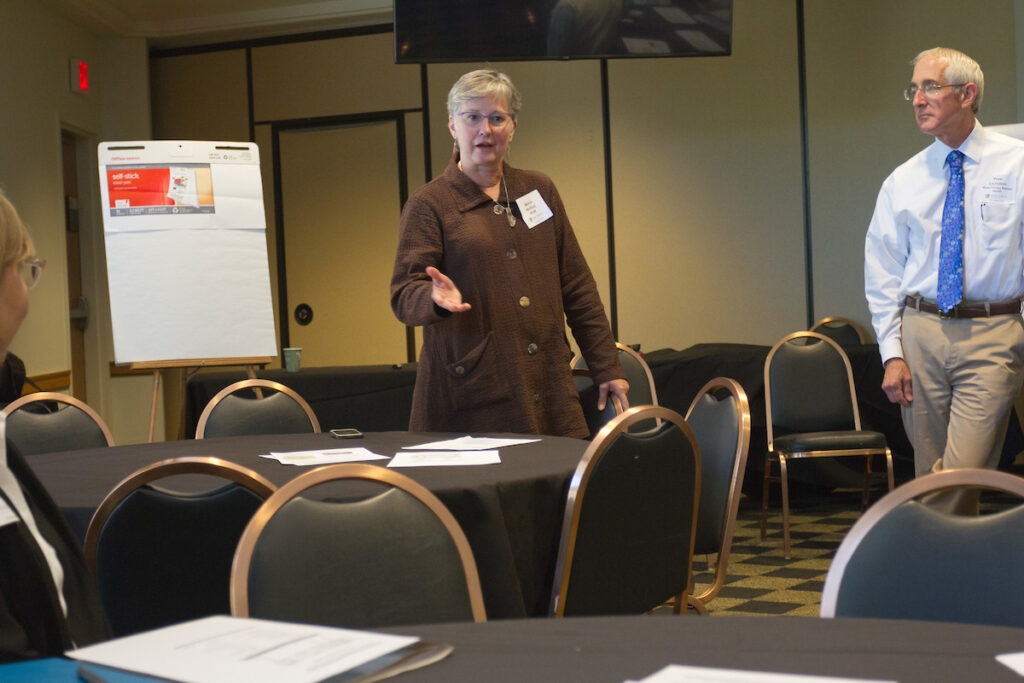 In addition to grants, the Program for Leadership and Character also support faculty as teachers through coaching programs and one-on-one consultations.
In Law
The Program for Leadership and Character has substantial support among law faculty, who regularly participate in workshops, teaching partnerships, sponsored law symposia, and speaker series. As a result of our staff footprint, more law faculty attend the program-wide three-day Course Redesign Workshop than any other undergraduate college or professional school. The result: A diverse set of leadership- and character-oriented courses and programming that reached more than 400 law students and 50 faculty and staff. In addition, in 2023 the law faculty and staff received a combined $51,000 in Departmental Grants from the Program for Leadership and Character supporting projects where building leadership capacity and developing character strengths will be integrated into a wide variety of teaching and learning opportunities for students, faculty, and staff.
There are multiple connection points for faculty to explore evidence-based teaching strategies that balance the traditional habits of mind (thinking like a lawyer) with dispositions of character, so that our Wake Forest School of Law graduates are equipped for successful law practice, leadership and community service, and a life of well being and satisfaction.
For more information contact our Curriculum and Pedagogical Design expert Nancy Winfrey (winfren@wfu.edu).
In Medicine
The Professionalism Pedagogy Coaching (PPC) Program pilot launched summer of 2023. Pre-clinical M.D. faculty from the School of Medicine's Charlotte and Winston-Salem campuses will investigate questions such as: "How do we allocate time to teach M.D. students professionalism without compromising the caliber of their technical training? How do we teach professionalism before students begin treating patients?" The PPC Program enacts recommendations made by the School of Medicine's 2022-2023 Professionalism Task Force. Contact Elizabeth Whiting (whitinge@wfu.edu) or Stacy Schmauss (sschmaus@wakehealth.edu) with questions.