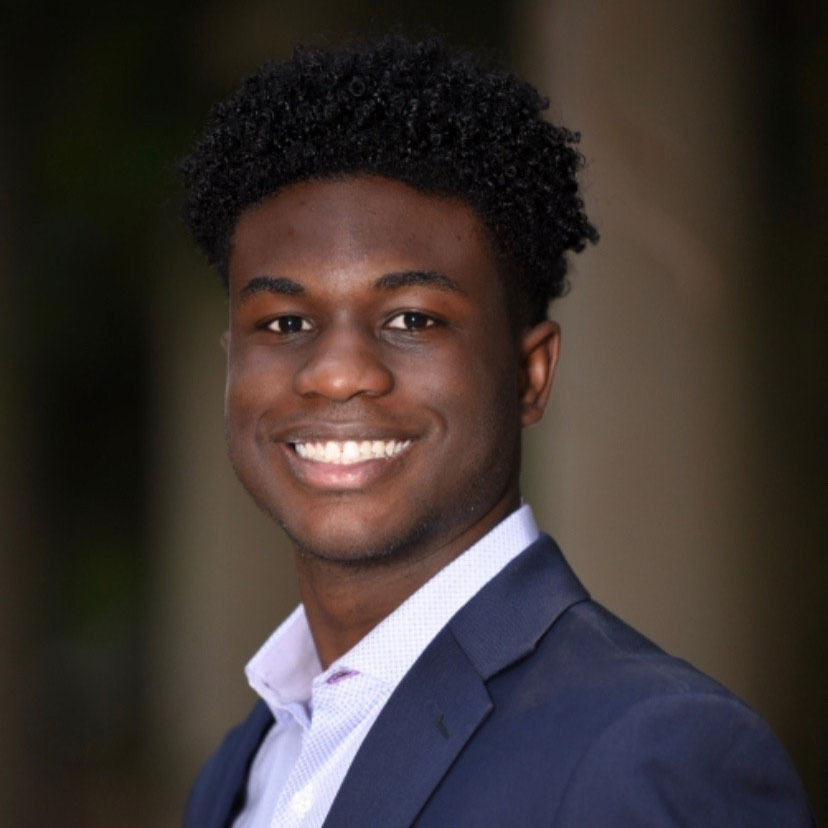 Maylon Adams | Sugar Land, TX
Maylon Adams appreciates the wisdom he gains from experience, and faces challenges with a desire to improve his ability to communicate and think critically. As a junior at Strake Jesuit College Preparatory, he co-founded Letz Talk, a club where fellow students could talk about current events and discuss compromise, affording him and his peers the opportunity to understand and learn from diverse perspectives. He was also a defensive captain for the lacrosse team, a Strake Jesuit Admissions student ambassador, his high school's freshman class president, a leading member on his student council's executive committee as a senior, and won his school's prestigious "Crusader of the Year" award at graduation. Maylon was also a prominent leader in campus ministry. He led the Kairos retreat twice—one as the Student Rector, and another as Assistant Rector—and helped guide students on a spiritual journey where they discern who they are and how God works in their lives. And, he was a counselor at Camp Blessing Texas where he guided devotional discussions for children with special needs. Maylon hopes to pursue a career in law, and has interned for the Fort Bend District Attorney's office and worked as an election clerk for the Harris County Clerk's office. He hopes that through his profession he'll be able to make meaningful strides in addressing racism and other social justice issues. He enjoys playing and listening to music, and is a huge Star Wars fan.
---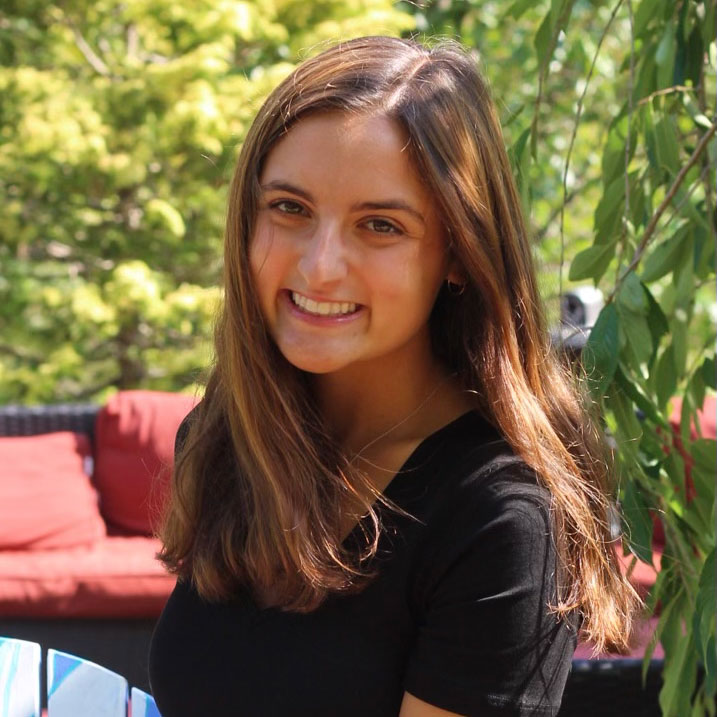 Tori Cascone | Berlin, CT
Tori Cascone is resilient in the face of hardship, developing her character with each new challenge and never losing her sense of empathy. She was a student leader for Berlin High School's Upbeat program, where she helped coordinate service projects such as offering mentorship to elementary school students. She also served as a chemistry, writing, and math tutor, and worked as a camp counselor for several years, helping children develop skills in swimming and theater. Her experience as a counselor also allowed her to engage with her passion for the outdoors. She enjoys exploration in the form of hiking and other outdoor pursuits, as well as travel to new, unfamiliar places and immersion into different cultures. Tori lives by the golden rule, and is proud of her focus on treating others with kindness and compassion, as well as her commitment to a mindset of personal growth. She was a member of her school's varsity swim team and track team, a member of the Hartt Community Division of the Primi Voice Choir, and a performer at several CMEA northern region and all state music festivals. She also participated in STEM workshops at the University of Connecticut where she interacted with prestigious female engineers and orthopedic surgeons, and was a member of her school's robotics team. She looks forward to furthering her education in science and pursuing a career as a physician.
---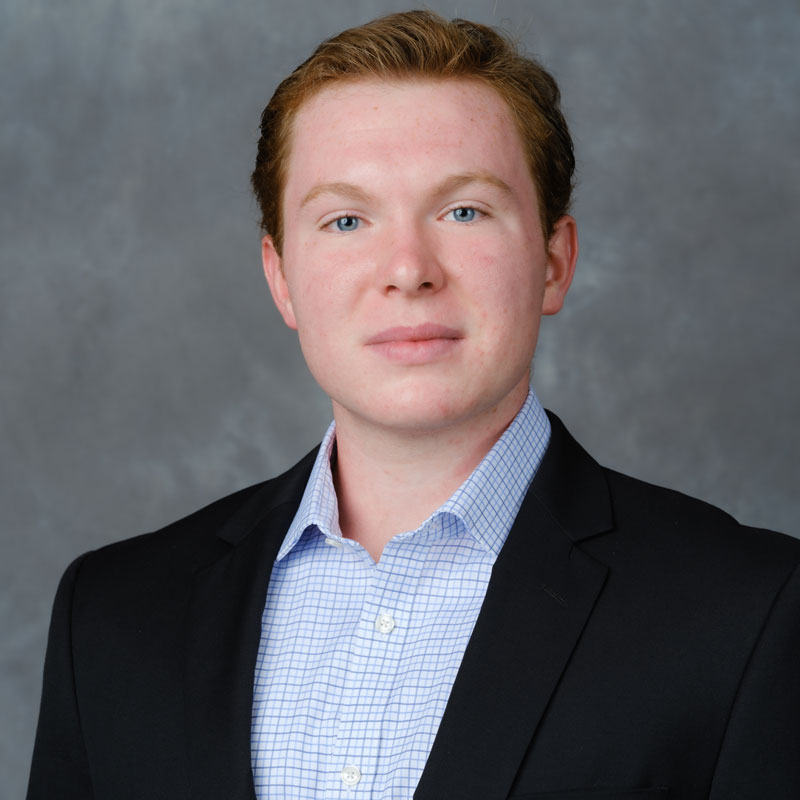 Steven Cayea | Deer Park, NY
Steven Cayea never stops looking for opportunities to help and emphasizes the importance of his relationships in who he is today. While a member of many organizations at Saint Anthony's High School, most importantly, Saint Anthony's Leadership Team, he welcomed prospective students and their families, helped host camps for children with intellectual disabilities, programmed events for the freshman class's transition to high school, and organized several toy drives and fundraisers in the community. Looking for any opportunity for service, he volunteered as a peer tutor, helping fellow students in topics such as algebra, geometry, and biology, and he also spent three years volunteering in the emergency department of the Good Samaritan Medical Center. Alongside professors at Hofstra University and Brookhaven National Laboratory, Steven helped perform microbiology and computer science research creating more exposure to different fields, demonstrating his academic curiosity. Although Steven's academic interests are largely in STEM, supported by his extensive AP coursework, he also appreciates lessons offered by the arts and the beauty of being well-rounded. As he pursues a career in medicine, he credits the study of Shakespeare and literature in helping him to become more mindful of the philosophies and ethics of the profession. Steven is a Guys T. Carswell Scholarship recipient.
---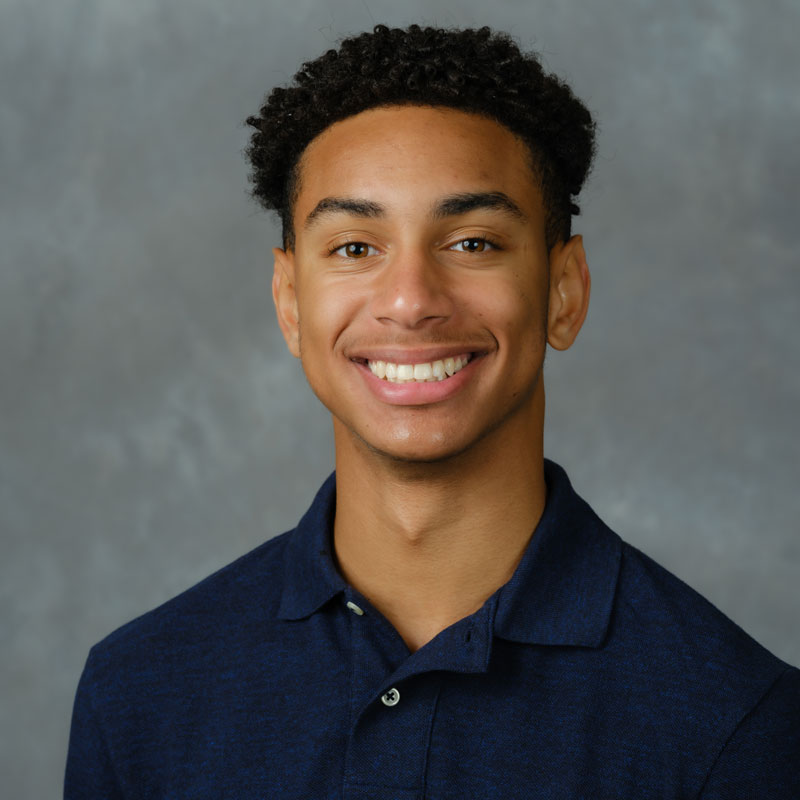 Mason Goodwyn | Leesburg, VA
Mason Goodwyn's sense of self-reliance pushes him toward his goals even in the face of setbacks, but doesn't stop him from connecting and working alongside his peers. At Tuscarora High School, he served as class president for three consecutive years, where he focused on listening to the concerns of other students and leading by example. He was the staff-selected school representative for his county's Student Advisory Planning Team, and a founding member of the Sources of Strength Advocacy Club, which planned and offered inclusive activities for fellow students. He participated in the Husky Buddies club, a student organization that promoted tolerance and kindness between disabled and non-disabled students, and was a member of his school's debate, track, and lacrosse teams. Mason also has a passion for all things STEM. As a member of the NASA-funded Virginia Space Coast Scholars, he collaborated with like-minded students and learned about space technology and exploration. He also served as a member of his high school's Technology Student Association, further enjoying opportunities for peer collaboration and engineering education. He interned at Lockheed Martin, where he not only learned about cybersecurity and computer science, but also discovered an interest for business, which he continues to study in college. Mason documents his experience with content he creates for social platforms such as TikTok and YouTube where he has garnered thousands of followers and subscribers by showing them what it's really like living day-to-day as a college student at Wake Forest. Mason is a Joseph G. Gordon Scholarship recipient.
---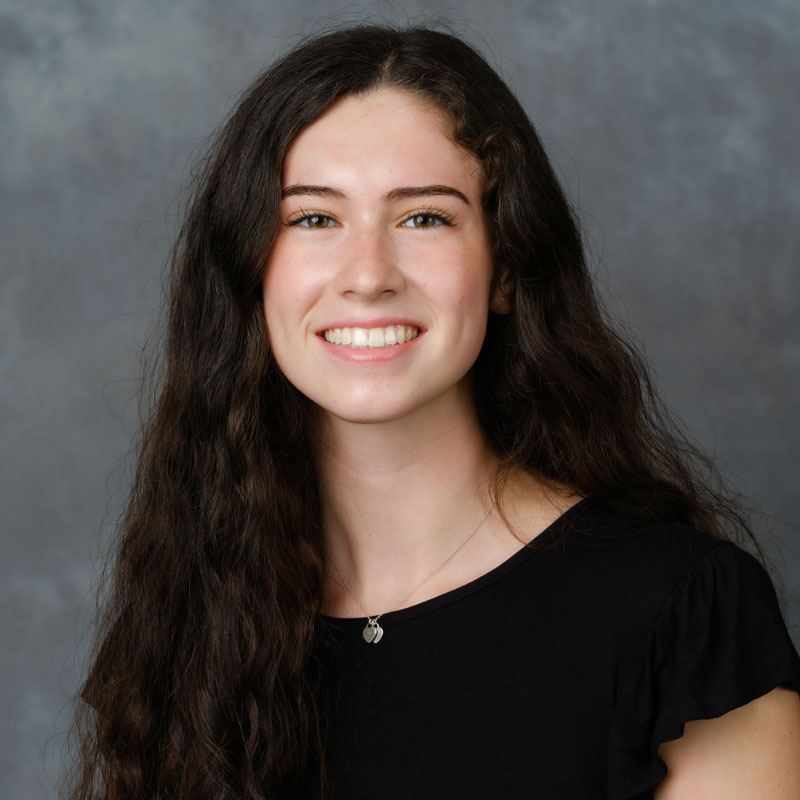 Jenna Mcclelland | Darien, IL
Jenna Mcclelland is passionate about creating inclusivity and a sense of belonging in others. As a peer leader and mentor for the Hinsdale South High School Peer Leadership Network, she helped acclimate freshman and transfer students to the school's atmosphere and culture. She also served as president of Best Buddies club, where she guided events and fundraisers aimed at immersing special education students in a valuable high school experience. In the future she hopes to continue working alongside members of the disabled community and help them achieve individual success and independence by becoming a physical and speech therapist. Tori enjoys being a reliable friend, teammate, and community member that others can lean on when they need help. She was the president of Hinsdale South Student Council, the vice president of National Honor Society, and a tutor for her peers and middle school students. She was also team captain for the varsity badminton team and volleyball team. Her values and passions are largely guided by her devotion to her religion, which she was able to further foster as a student leader for Young Life club, focused on student involvement in the Christain faith. Jenna looks for opportunities to serve others, offer steady support, and help others make the most of life.
---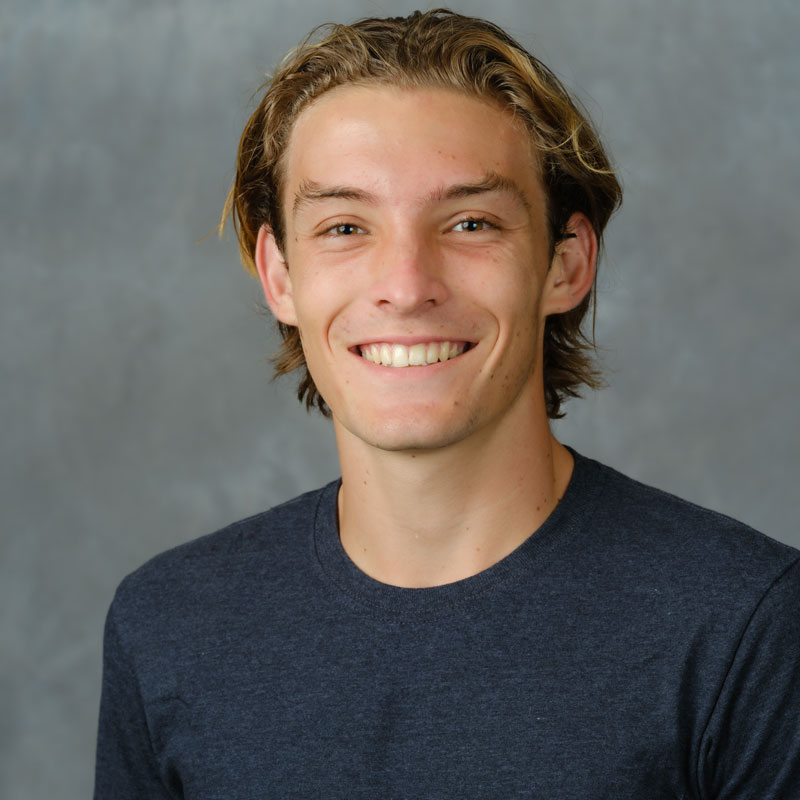 Aidan Norris | Kampala, Uganda
Aidan Norris is no stranger to new experiences. Before coming to Winston Salem, he studied in Japan, Madagascar, and most recently at The International School of Uganda. Through this varied experience he has become passionate about developing community, protecting nature, and simply being his true self. Throughout his high school experience, he participated in various sports including basketball, volleyball, cross country, soccer, ultimate frisbee, and boxing. He also enjoys hiking and mountain biking. In seeking to promote a sense of community, he served as a representative to his school's student government executive committee, where he worked with others to plan events for the student body. At his first high school, he was a member of the Social Issues Club, which met weekly to discuss and address social problems as they affected students; at his second school, he co-founded a similar club. Aidan strives to act with compassion for the sake of other people as well as the natural world. He has a passion for physics and engineering, and looks forward to combining this with environmental and sustainability studies to pursue a future where he can design thoughtful solutions for environmental issues. Aidan is a Stamps Scholarship recipient.
---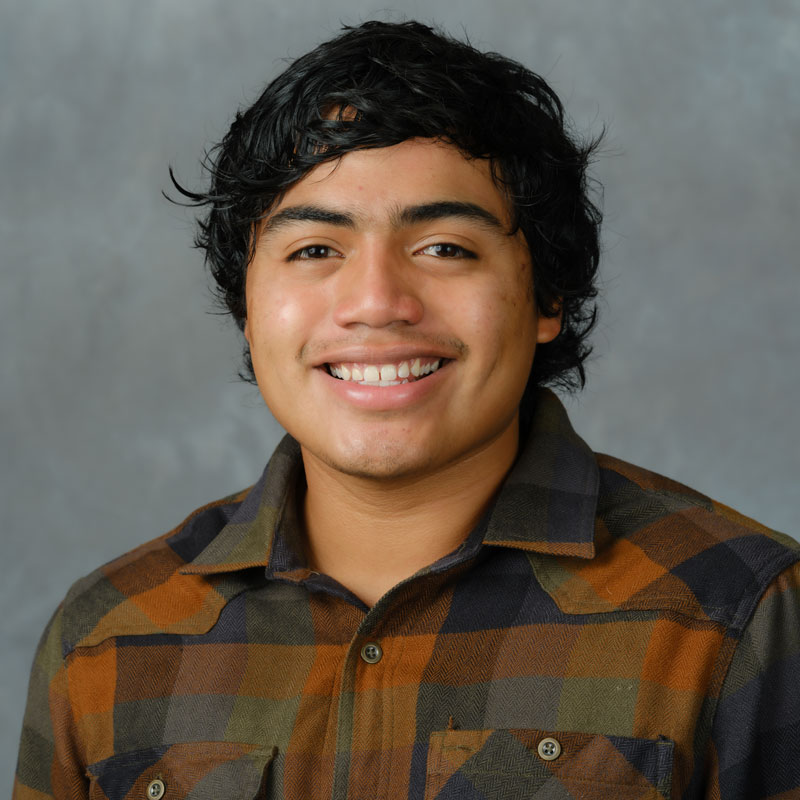 Harper Shanly | Blowing Rock, NC
Harper Shanly values interpersonal connection and lending a helping hand. At the North Carolina School of Science and Mathematics, he served as a student ambassador who introduced new and prospective students, a virtual tutor and mentor for hispanic students, and a youth workshop facilitator for Grow Your World, where he focused on creating opportunities to connect with local community members and promote inclusivity and racial equity. He was also driven by a passion for social justice to co-found the school's Coalition for Equity, Inclusion, and Diversity, a student-led initiative with the goal of communicating and working with school administrators to combat inequity and ensure that the voices of underrepresented minorities are heard. He also participated as a program assistant for the NCSSM's Summer Leadership and Research Program for underrepresented minority students. As an avid hiker and devoted cyclist, he values nature as a space for reflection and community building. In high school he founded two separate cycling clubs and enjoyed working as a landscaper at a plant nursery in Blowing Rock, North Carolina. He now volunteers in the Wake Forest Campus Garden. Harper values human connection, education, and social justice, and believes that positive actions small and large can make a meaningful impact on others.
---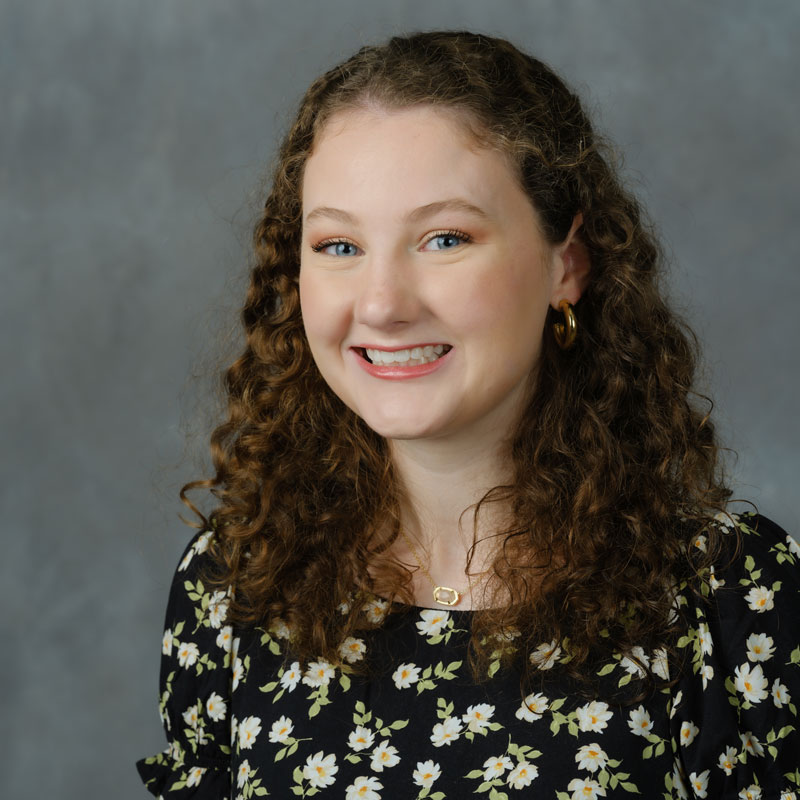 Lillie Sutton | Clemmons, NC
Lillie Sutton lives by the words "be the sunshine." She is perhaps most proud of her experience as a tutor and mentor for struggling elementary schoolers, and stays in contact with some of them to this day. Lillie believes in using her voice to support others, and if there is no platform to speak from she is willing to create her own. At West Forsyth High School, she developed and hosted Let's Talk, a virtual discussion series aimed at educating herself, classmates, and community members alike about issues of diversity and racial inequity. As student body president, she implemented a four-point platform focused on student wellness through academic support, school pride, self care, and tolerance. Lillie also created and coordinated a Back to School Supplies initiative that raised over $1,000 for at-risk middle schoolers learning virtually during the COVID-19 pandemic. Though she is largely interested in STEM and pursuing a career in medicine, she is also a devoted dancer and violinist, and was selected to perform at the All County Dancer Concert as part of the National Honor Society for Dance Arts and the NC Honors All State Orchestra. She continues to play for the Wake Forest University Orchestra today. Lillie is a Guy T. Carswell Scholarship recipient.
---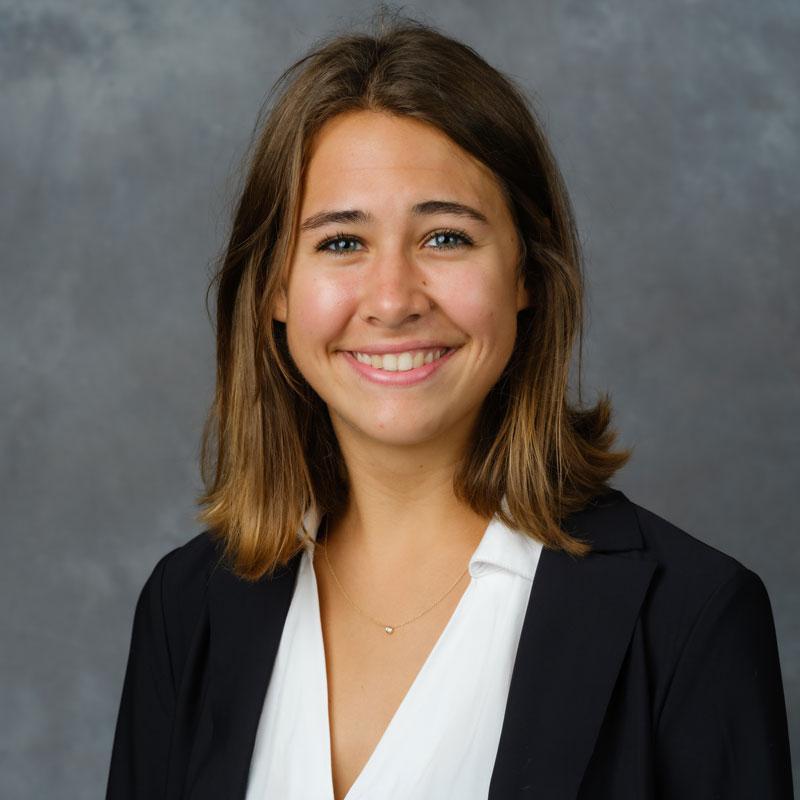 Caroline Thompson | Charlottesville, VA
Caroline Thompson doesn't strive for a traditional definition of success. She has long been a committed student athlete, and was captain of The Covenant School's field hockey team, but doesn't seek out leadership positions for the sake of their title. Caroline believes personal worth is something greater than productive ability. She's volunteered at a local nursery, being a part of the Give, Pray, Serve Squad for the Salvation Army, and helping coordinate events for children with special needs at her church. Caroline also cherishes storytelling and its power to foster positive connection and empathetic insight. She is studying psychology, and hopes to pursue a career in therapy, where she can connect with people through their stories and promote a sense of self-understanding and self-love. She appreciates vulnerability and does not shy away from tough conversations, and is excited to continue developing her and others' empathetic sensibility and capacity for self-compassion.
---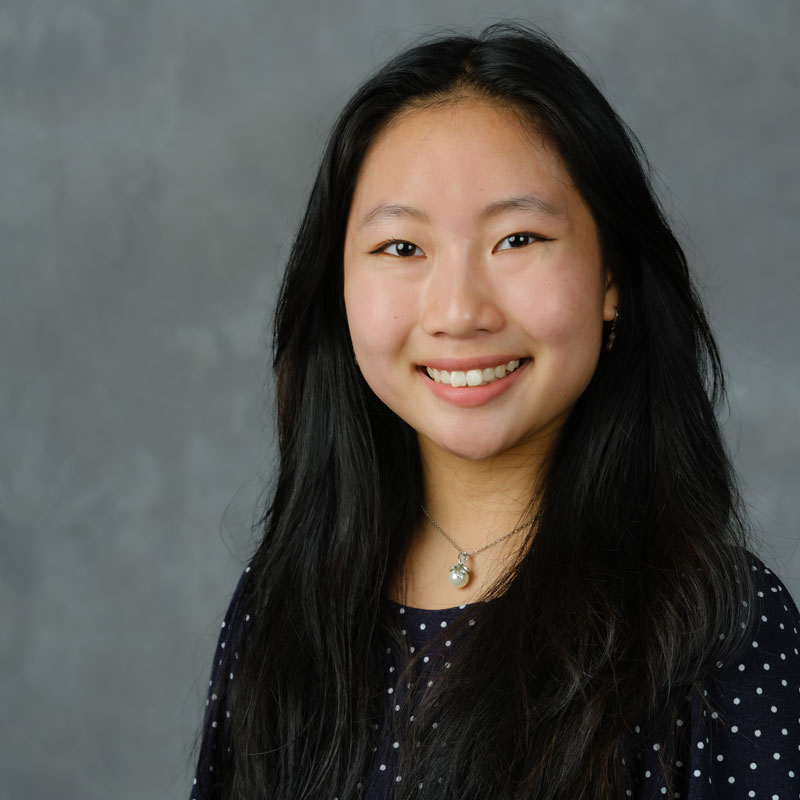 Wendy Wei | Lexington, KY
Wendy Wei cultivates wisdom through a breadth of experience. As a member of the Paul Laurence Dunbar High School leadership team, a team leader for the varsity debate team, and a member of the leadership team for her school's Beta Club, she greatly valued communication, always ensuring that the opinions of her peers were recognized. She further developed her communication and leadership skills as a member of Future Business Leaders of America and Distinguished Women of America. Wendy has a passion for STEM and especially appreciates math for its linear, objective nature. She was a research team member at the University of Kentucky St. Clair Toxicology & Cancer Biology Lab during her junior and senior year of high school, and plans to further develop her analytical skills and combine them with business studies to seek a career as a data scientist. Though her academic interests are largely data-driven, she still enjoys finding opportunities for artistic expression. She was an art teacher for three years at Lexington Chinese School, is a long time piano student, and still enjoys playing music and painting in her free time. Wendy is a Nancy Susan Reynolds Scholarship recipient.
---