The Program for Leadership and Character in the Professional Schools supports the School of Law through faculty development and student programming that work to integrate character development and character-based leadership into the entire legal education experience. To ensure that leadership and character are embedded in the culture and curriculum of the School of Law, we have hired three people—an assistant director, a curriculum and pedagogical design expert, and a visiting assistant professor—who collaborate on effective implementation of innovative programming, new course offerings, and professional development for faculty and staff.
Resources for Faculty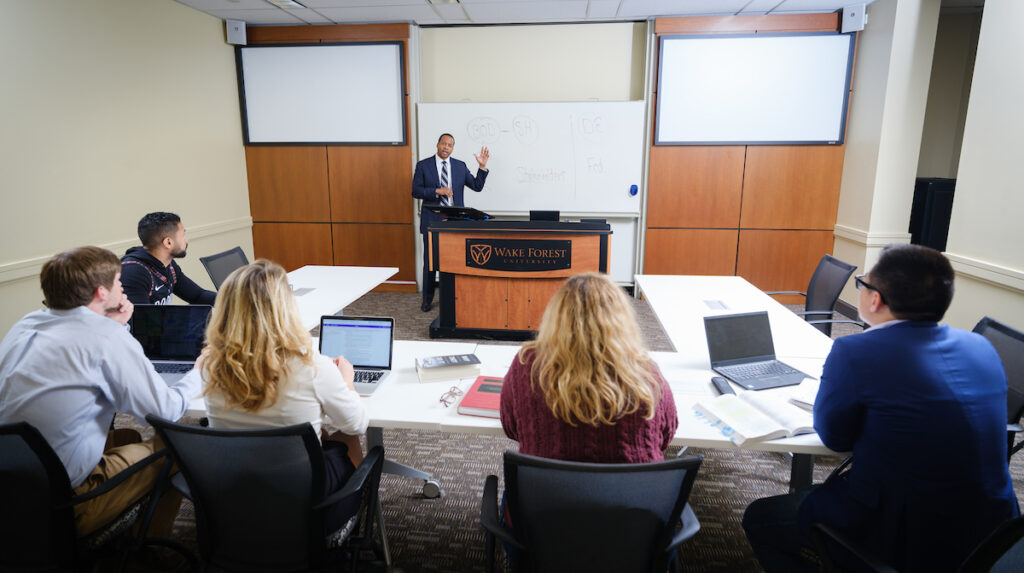 The Program for Leadership and Character has substantial support among law faculty, who regularly participate in workshops, teaching partnerships, sponsored law symposia, and speaker series. As a result of our staff footprint, more law faculty attend the program-wide three-day Course Redesign Workshop than any other undergraduate college or professional school. The result: A diverse set of leadership- and character-oriented courses and programming that reached more than 400 law students and 50 faculty and staff. In addition, in 2023 the law faculty and staff received a combined $51,000 in Departmental Grants from the Program for Leadership and Character supporting projects where building leadership capacity and developing character strengths will be integrated into a wide variety of teaching and learning opportunities for students, faculty, and staff.
There are multiple ways for faculty to explore evidence-based teaching strategies that balance the traditional habits of mind (thinking like a lawyer) with dispositions of character, so Wake Forest School of Law graduates are equipped for successful law practice, leadership and community service, and a life of well being and satisfaction.
For more information contact our Curriculum and Pedagogical Design expert, Dr. Nancy Winfrey.
Resources for Students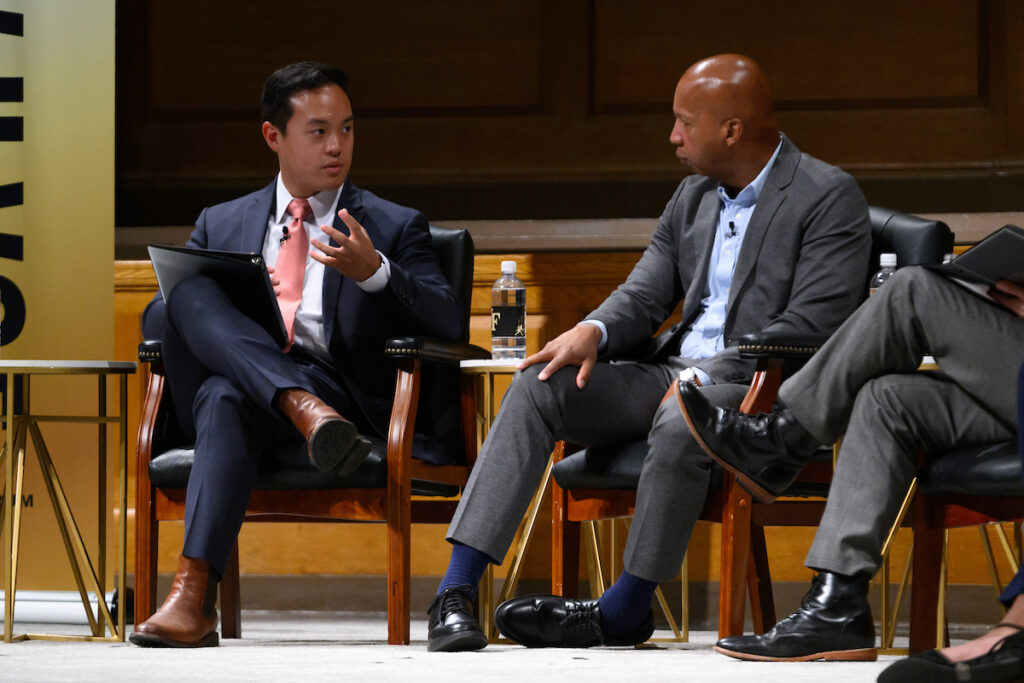 Wake Forest's motto Pro Humanitate (For Humanity) calls the university to equip students with the knowledge, skills, and character to lead in a complex, and often unjust, world. We take this responsibility seriously in the School of Law, and we are taking steps to become even more intentional about preparing future lawyers to live and lead with integrity. To that end, we have created a Leadership and Character in the Law cohort program that explores the intersections of character, leadership, and the law.
Leadership and Character in the Law Cohort
Cohort participants engage in personalized discussions, help facilitate workshops, and receive specialized mentoring provided by the Program for Leadership and Character. Members of the cohort also attend networking events with lawyer-leaders from various sectors and backgrounds and interact with senior leaders from the Wake Forest Law community.
Our current cohort scholars are:
Kendall Carter (L '24)
Tyler Long (L '24)
Clare Magee (L '24)
Marley Peterson (L '24)
Marin Bennerotte (L '25)
Richard Hall (L '25)
Mackenzie Matthews (L '25)
Jacob Padillo (L '25)
Students interested in joining the Leadership & Character Cohort at Wake Forest Law can email Dr. Benjamin Rigney for more information.
Events
The Program for Leadership and Character also provides opportunities for leadership and character development for the entire Wake Forest Law community. Events include monthly lunch-and-learns, guest speaker events, leadership development workshops for student organization leaders, and law school success training during Foundations Week (law school orientation).
We hope to change the world by equipping law students to be leaders of character in the legal profession and beyond.
Our Team
Our Program for Leadership and Character faculty and staff members based in the School of Law are:
Kenneth Townsend
Director of Leadership and Character in the Professional Schools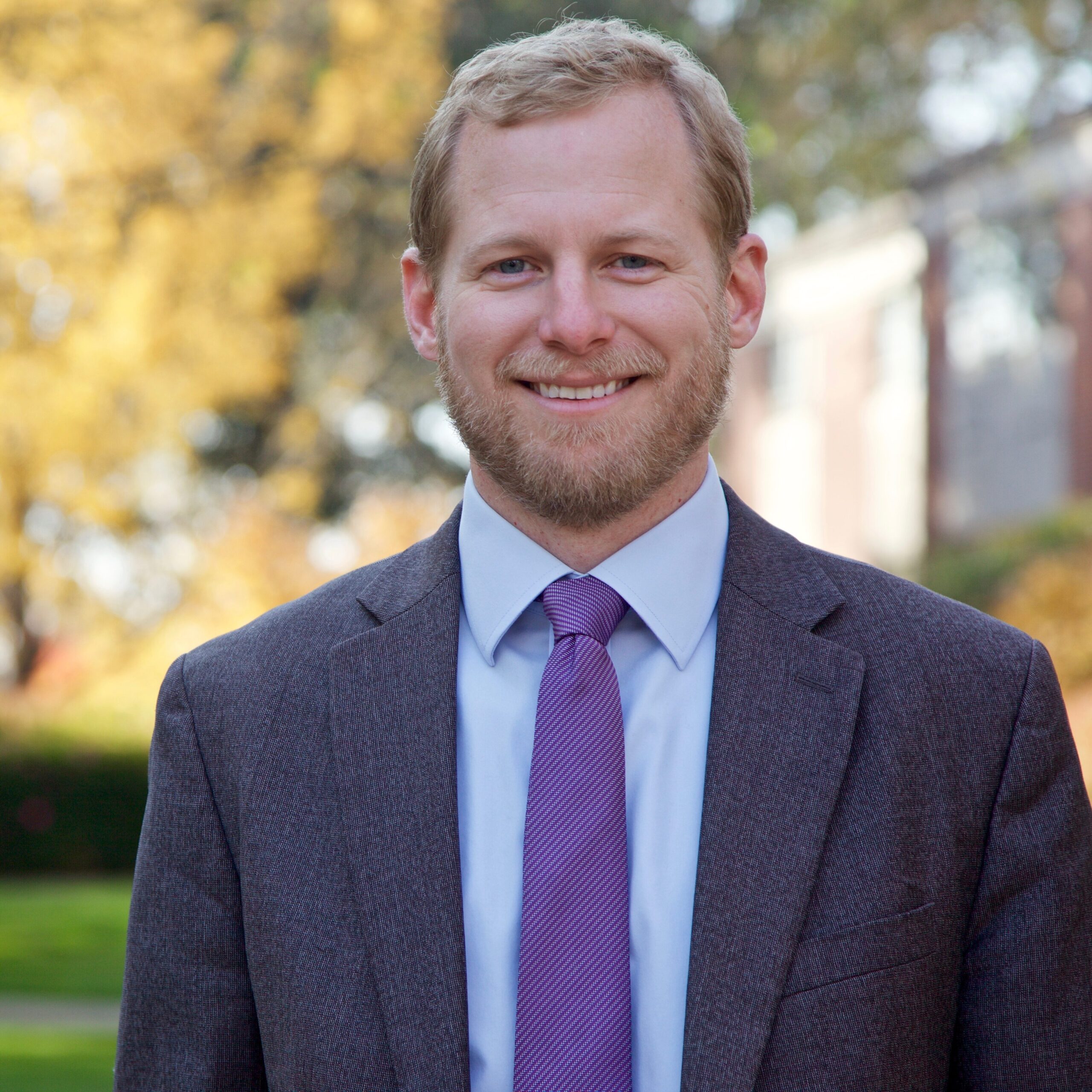 John Carter
Visiting Assistant Professor of Religion, Law, and Public Life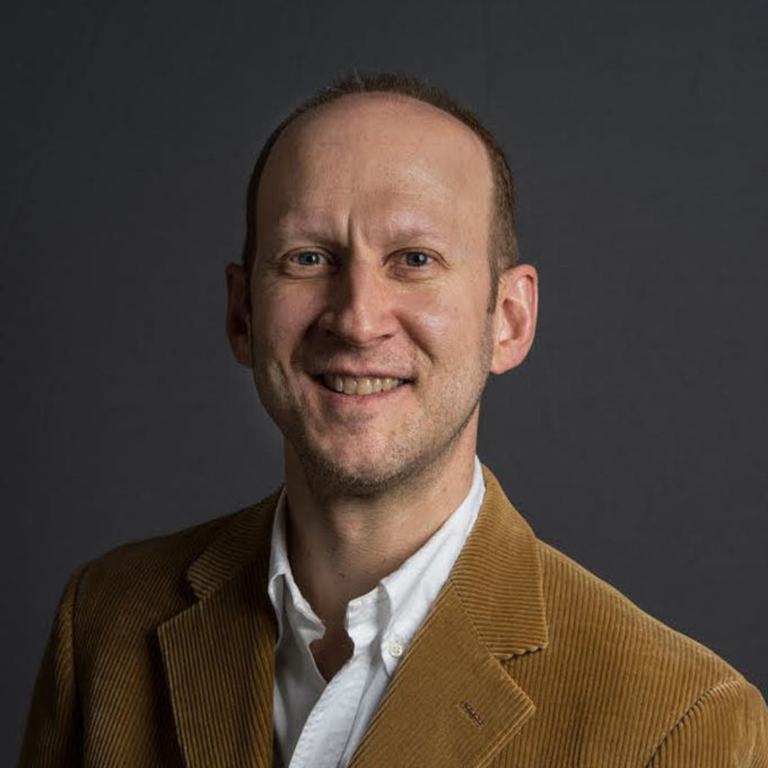 Ben Rigney
Assistant Director of Leadership and Character in the Law School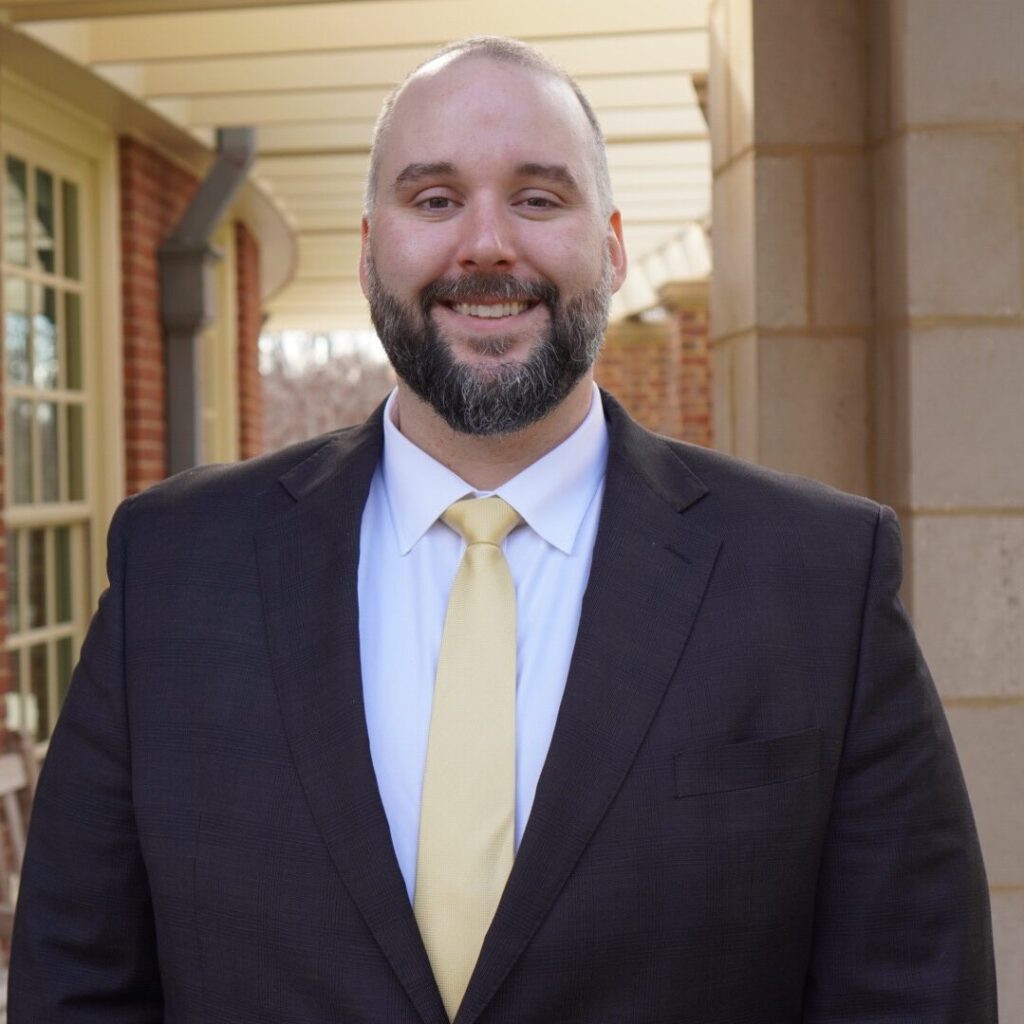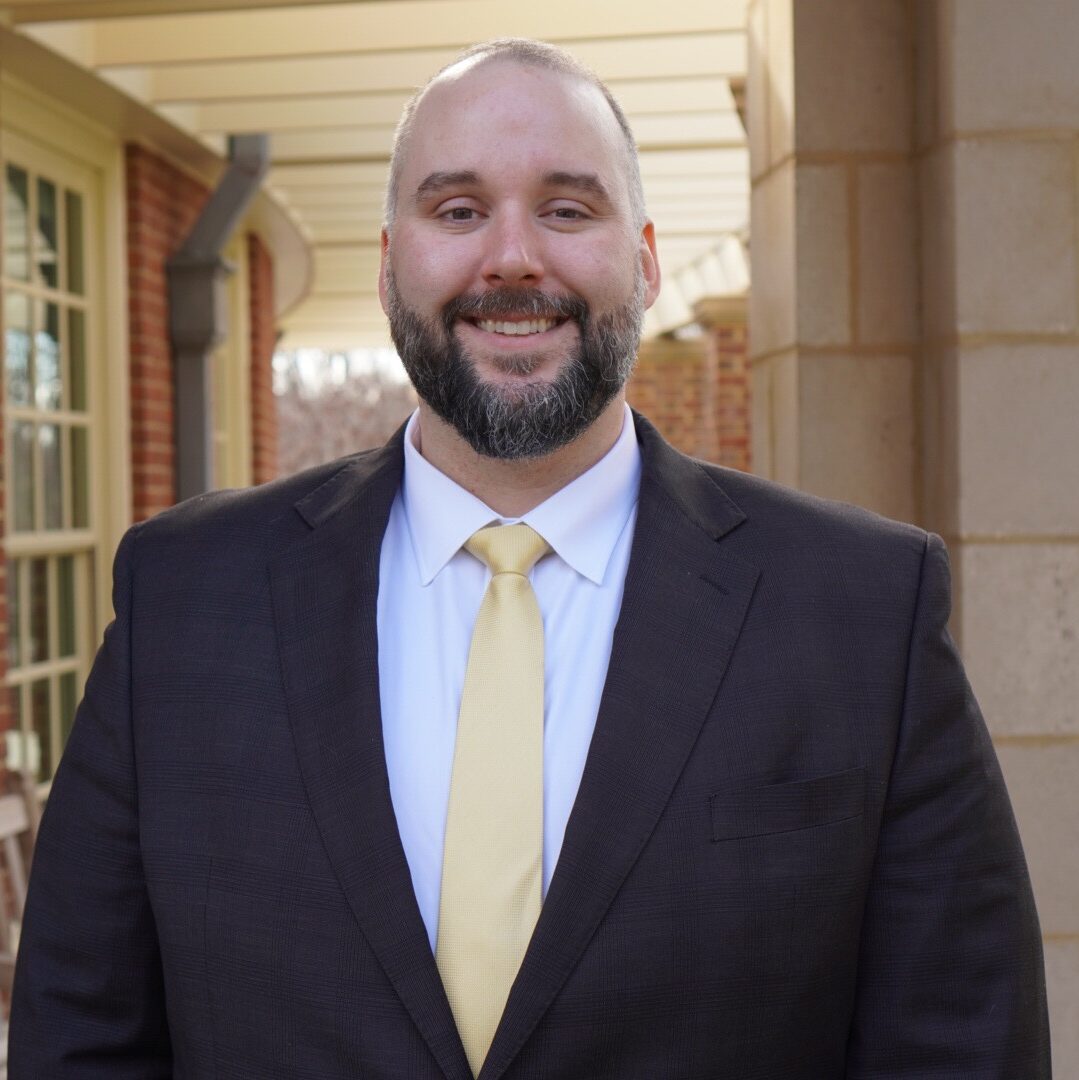 Nancy Winfrey
Assistant Director of Curriculum and Pedagogy