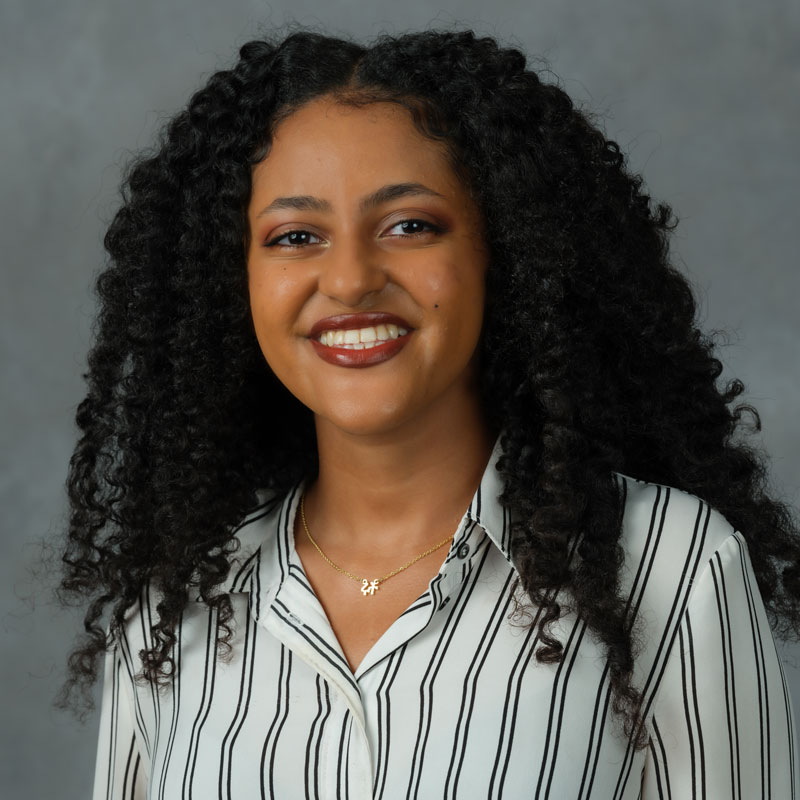 Rute Ayalew | Charlotte, NC
Rute Ayalew is driven by her passion for civic engagement and human rights. Born in Ethiopia, she spent the majority of her upbringing in Charlotte, North Carolina. Attending East Mecklenburg High School, Rute earned a reputation for integrity and advocacy. Constantly pushing herself academically, Rute took 14 IB classes and earned a top position in her class. Courses like "Global Politics" solidified her passion for ethics and international affairs. Rute served as President of Activism Club, Vice President of Model UN, and secretary of Empowering Girls of Color, all of which she co-founded at her school. Additionally, Rute served as the committee chair of community service in the Student Congress where she led her school in the Carolina Student Hunger Drive for two years. Moreover, she demonstrated her dedication to her larger community of Charlotte through serving on the Charlotte Mecklenburg Youth Council and also by collaborating with Students for Education Reform. Rute plans to discover more ways to cultivate impactful change, in the spirit of Pro Humanitate, during her studies at Wake Forest. As a Leadership and Character Scholar, Rute will continue to pursue justice grounded in empathy.
---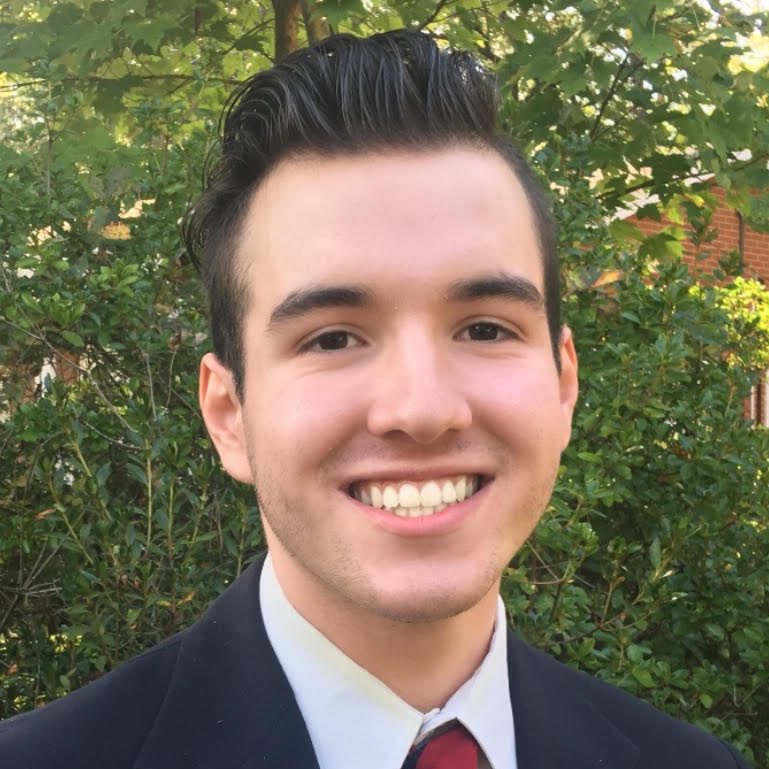 John Billos | Mount Airy, NC
John Billos cherishes his rural upbringings as he believes it is the root of his principles and character. He opted for a non-traditional high school experience by choosing to attend Surry Early College High School. He sought out and thrived in the most challenging math and science courses, which allowed him to graduate as valedictorian of his class and also obtain an associate of arts degree and associate of science degree, graduating with high honors in both. As a native of Mount Airy, North Carolina, John is interested in connecting the larger world to the agrarian lifestyle around which he was raised. This motivation led him to teach himself programming languages like Java, Python, and Ruby. Each summer, John volunteered in the IT department at Northern Regional Hospital and interned as a PC technician his senior year. John balances his love of STEM subjects with his love for history and community service. During his freshman and sophomore year, he earned two first-place prizes for historical papers in the National History Day regional contest. As the President of his school's community service club for two years, he helped implement creative ways to serve his community by hosting an annual Haunted House fundraiser and designing and marketing a Peanut Butter and Jelly food drive. For his acts of servitude, John was given the DAR Good Citizen award and voted "Mr. SECHS" for his outstanding enthusiasm. He plans to study computer science and mathematics at Wake Forest because he is passionate about the ways technology can act as a bridge between the larger urban community and his small rural community. John's affinity for service, technology, and connecting people through dialogue led him to the Program for Leadership and Character, where he relishes the privilege to learn from and serve humanity.
---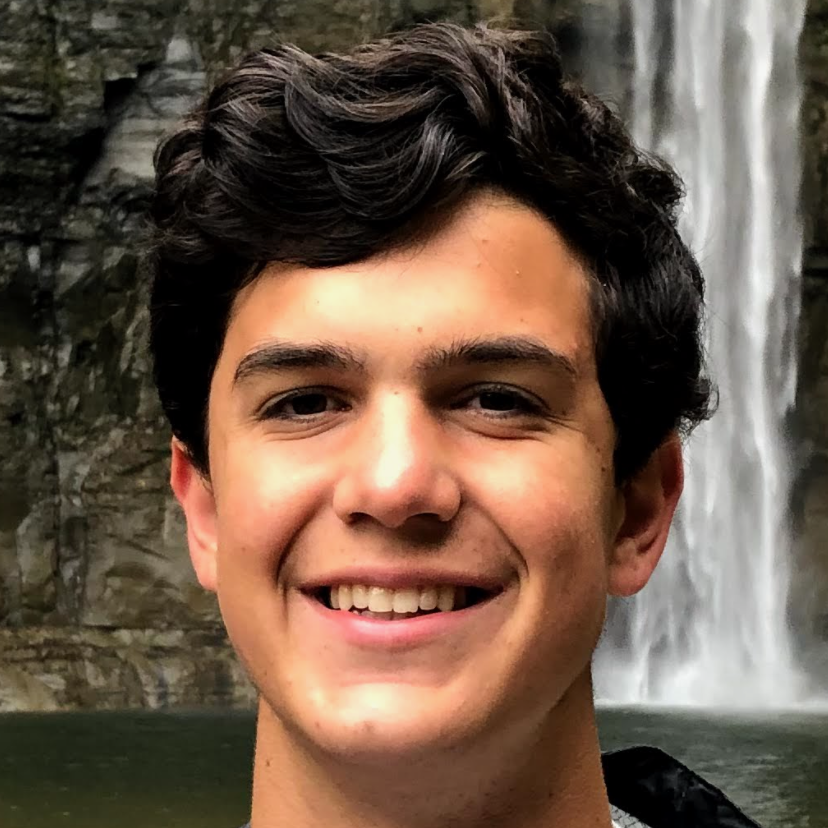 Ritt Culbreth | Harrisonburg, VA
Ritt Culbreth is fascinated by the natural world. Growing up in an agrarian community in Harrisonburg, Virginia, Ritt contemplated the natural world more than most. By high school, Ritt was studying agricultural policy and sustainable practices, some of which he presented to local farmers. Stemming from his interest in sustainability and environmentalism, he is interested in the environmental, political, and legal implications of the current global migration of climate refugees. This led him to assist with research at James Madison University geared toward developing a legal framework to protect climate refugees. Ritt attended Harrisonburg High School and by junior year, he was also attending Massanutten Regional Governor's School for Integrated Environmental Science and Technology. He pushed himself academically, taking 13 AP classes and 8 dual enrollment classes in his 4 years. He founded Model United Nations at his school and served as the head delegate, as well as the captain of the Debate Team. Ritt received a Stamps Scholarship, and hopes to pursue environmental studies at Wake Forest and is excited to take advantage of a liberal arts education. Within the Program for Leadership and Character, Ritt's thoughtful nature will lead him to deeper understanding of his own character and those around him.
---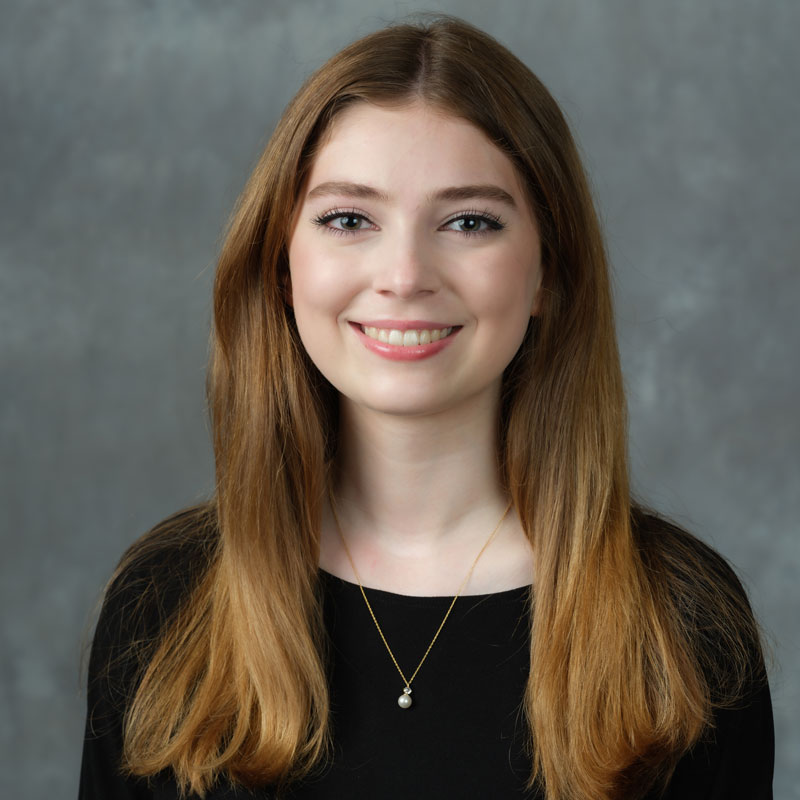 Emily Foley | Minneapolis, MN
Emily Foley wants to understand the inner workings of the universe. As a student at Providence Academy in Minneapolis, Minnesota, Emily took every advance level physics and math course offered. She then began reading about physics on her own, books like The Fabric of the Cosmos: Space, Time, and the Texture of Reality became her teachers outside of the classroom. From this influence, she now dreams of conducting research on gravity at the quantum level. Emily also uses the arts as an outlet for expression. She is an accomplished pianist, a 5-time winner of the Minnesota Music Teachers Association Annual Piano Contest, and visual artist. Working primarily with charcoal and oil paint, Emily earned a Scholastic National Silver Medial and 2 Minnesota Scholastic Arts Gold Keys. She was also Vice President of National Honor Society and a member of her school's varsity trap shooting team for four years. The recipient of a Stamps Scholarship, Emily plans to pursue physics at Wake Forest and values the opportunity to form close relationships with professors as she hopes to eventually earn her doctorate in physics. Within the Leadership and Character Scholar cohort, Emily stands out with her well-defined passions and enthusiasm in sharing her perspective.
---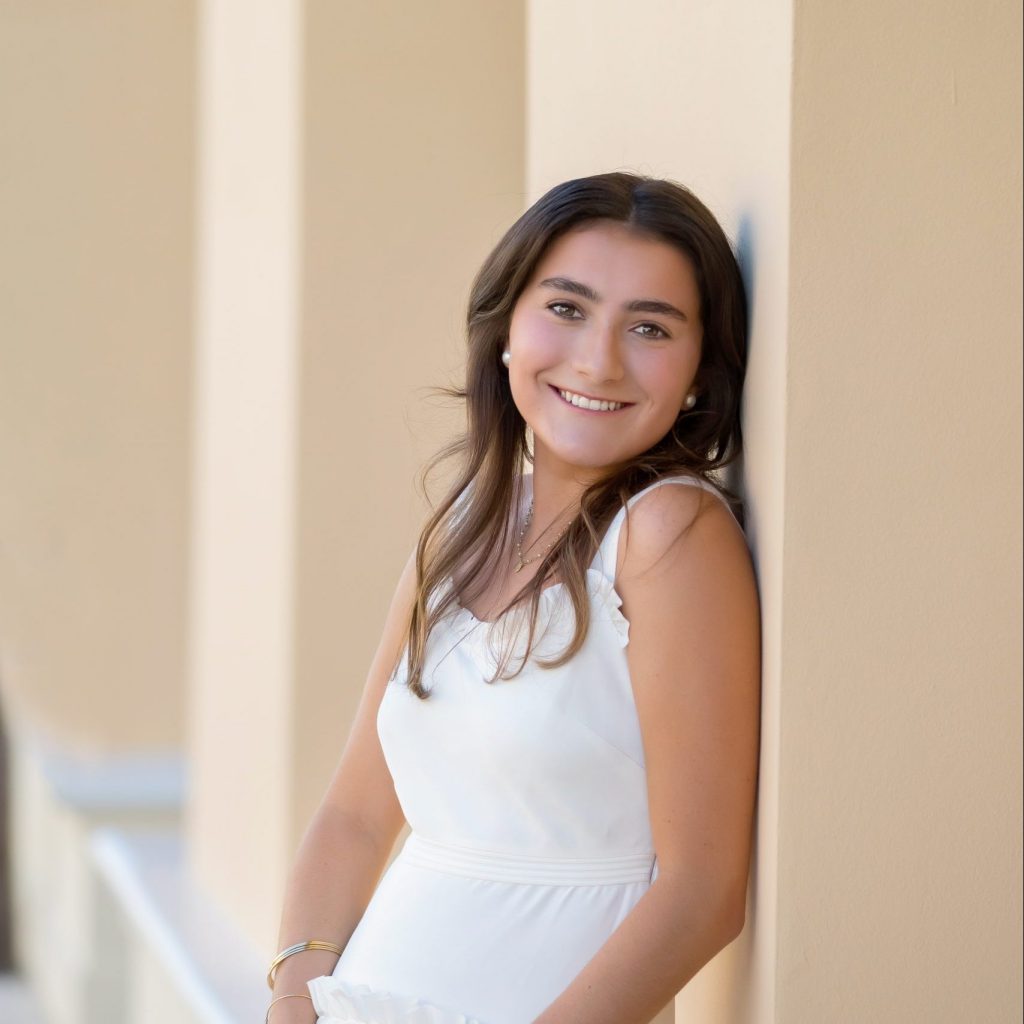 Ani Garcia-Velez | Miami, FL
Ani Garcia-Velez seeks intellectual growth at every turn. As a student at Carrollton Sacred Heart School in Miami, Florida, Ani challenged herself with the International Baccalaureate track. She delighted in learning history and global politics, taking a special interest in the American political system. She served as Class President during her senior year, working to accurately communicate the needs of her class to her school's administration. She was also the Founder and President of the Sea Change Club which fundraised for the Coral Restoration Foundation and organized volunteers for beach and coastline cleanup projects. She is also fluent in Spanish and enjoys exploring and expressing her Cuban heritage. Ani, the recipient of a Stamps Scholarship, is the second of her siblings to attend Wake Forest and is excited to forge her own path, possibly studying Politics and International Relations and eventually pursuing a career in law. Ani's maturity, intentionality, and warmth serve her well as a Leadership and Character Scholar and student striving to live for humanity.
---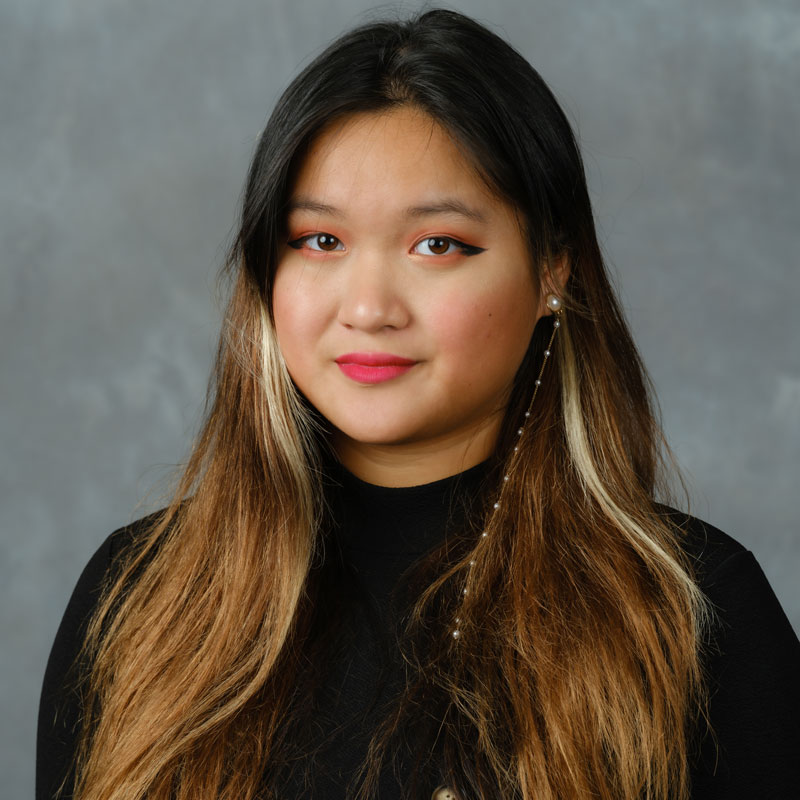 Annie Phan | Southaven, MS
Annie Phan's generous spirit infuses all she does. As a hospital volunteer, she started a letter-writing campaign for patients in the intensive care unit so that they also receive a holiday gift. In addition to the 24 lab reports required for her AP physics course, she wrote one more as a gift entitled "Lab 25: Why We Love Ms. Webb," collecting qualitative data from her classmates and structuring a report to honor her teacher. As a student at Desoto Central High School in Southaven, Mississippi, Annie's Vietnamese heritage was unique among her classmates. She sees it as a core facet of her identity and has devoted herself to learning about her heritage and giving back to her place of origin by leading a project that aims to educate small villages on how to take care of common health issues. In school, she challenged herself academically, pursuing 8 advanced courses, serving as the Math Honor Society president, and earning the National Merit Scholar title. From her interest in the sciences and personal experience struggling with sleep deprivation, she conducted research on the issue and has presented her findings to multiple municipal groups. She is also passionate about the arts: she has been singing in a local choir, creating visual art, and honing her piano skills since age 3. Annie holds a strong passion for exploration and organized dozens of both urban and rural excursions, allowing them to intentionally encounter the beauty of their immediate surroundings while getting a hands-on experience with topography and local history. She intends to double major in Biochemistry and Japanese at Wake Forest and continue her scientific research. Annie embodies self-leadership through her inquisitive, generous, and determined nature and contributes her distinctive point of view to the Leadership and Character Scholars cohort.
---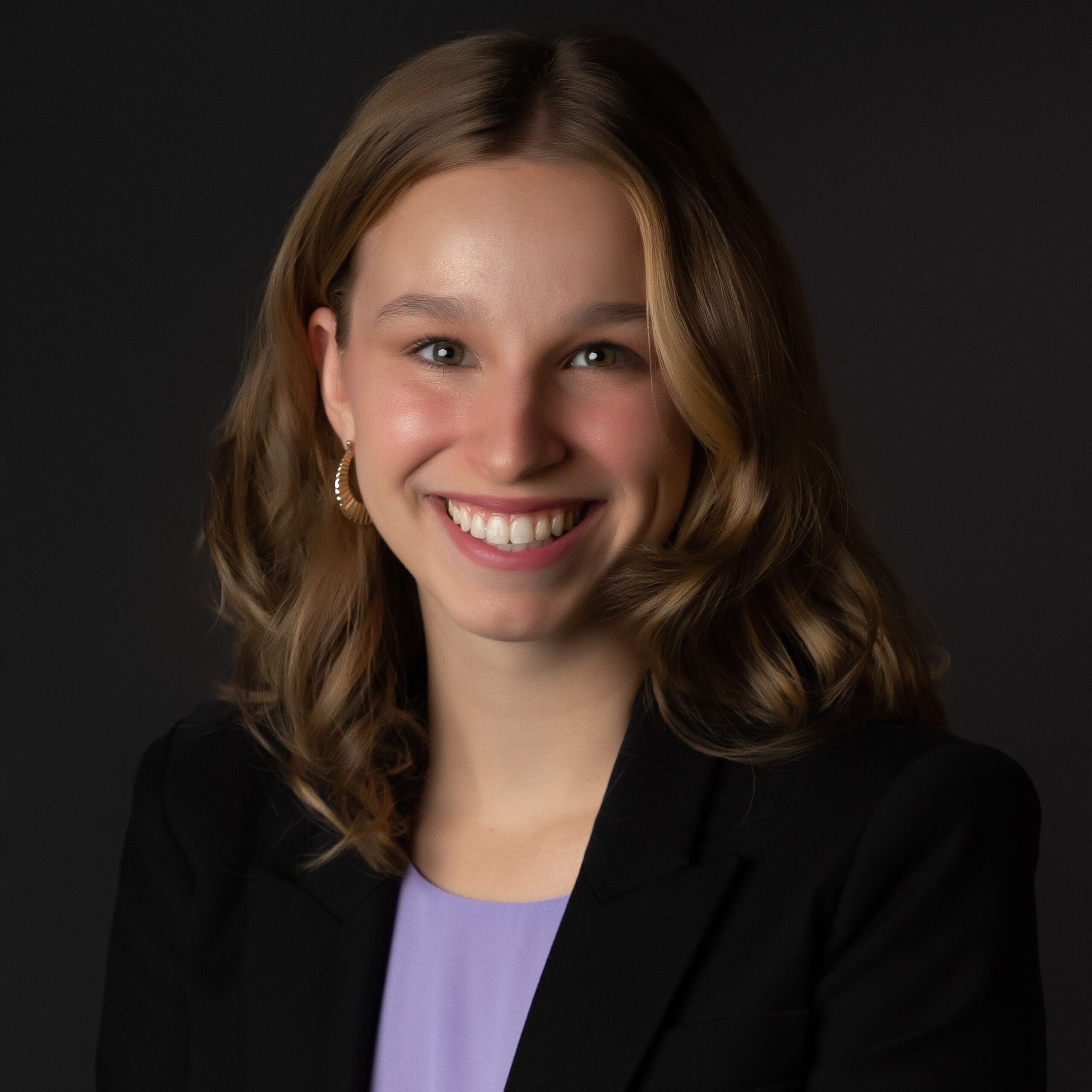 Cate Pitterle | Cary, NC
Cate Pitterle is a writer at her core. She remembers writing elaborate stories as a child, and as she grew up, she turned to poetry and journalism to feed her passion. At Cary Academy, Cate became the Editor-in-Chief of the school newspaper and literary magazine and received the President's Book Award from Bryn Mawr College. She was also the co-Editor in Chief of Polyphony Lit, an international literary journal for high school writers, and interned for INDY Week, a Durham newspaper. Through her experience as a writer, Cate has become increasingly interested in politics and international affairs, especially the way in which major news events are covered. She has a love of languages, first Mandarin, having studied it since 6th grade, and now Russian. She also served as co-captain of her high school golf team. A recipient of a Stamps Scholarship, Cate looks forward to editing for the Old Gold & Black at Wake Forest, serving in Student Government, and honing her skills as a writer of many genres. She hopes to study politics and international affairs and lean into the academic and character-forming opportunities of being a Leadership and Character Scholar.
---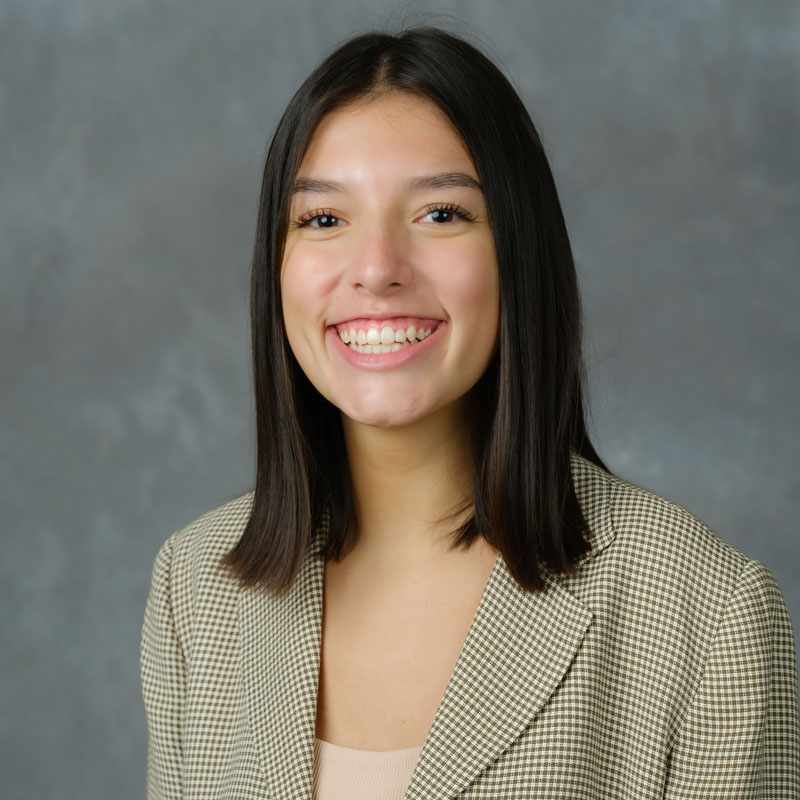 Sofia Ramirez Pedroza | Ponte Vedra, FL
Sofia Ramirez Pedroza is curious about most things. From Ponte Vedra, Florida, she attended continually challenged herself by taking 17 AP courses and was the only female to rank in the top 10 of her class of 455. She grew up speaking Spanish with her parents who are from El Salvador and Colombia. She is fascinated by history, citing an art history course as a turning point in her education. She received the AP Art History Award in 10th grade, served as the President of the National Hispanic Honor Society where she enrolled the largest number of members in the Society's history, and founded Bilingual Story Time in introduce and teach Spanish to children. Sofia recalls many inspiring teachers who have encouraged her throughout her education, so Wake Forest's reputation for personalized teaching excites her. Sofia received a Stamps Scholarship, and plans to explore her interest in history as well as math and believes that Wake Forest will provide her with valuable opportunities, whatever path she takes. Sofia's calm confidence and strong internal drive have led her to the Leadership and Character Scholars Program, where she looks forward to learning from her peers and mentors.
---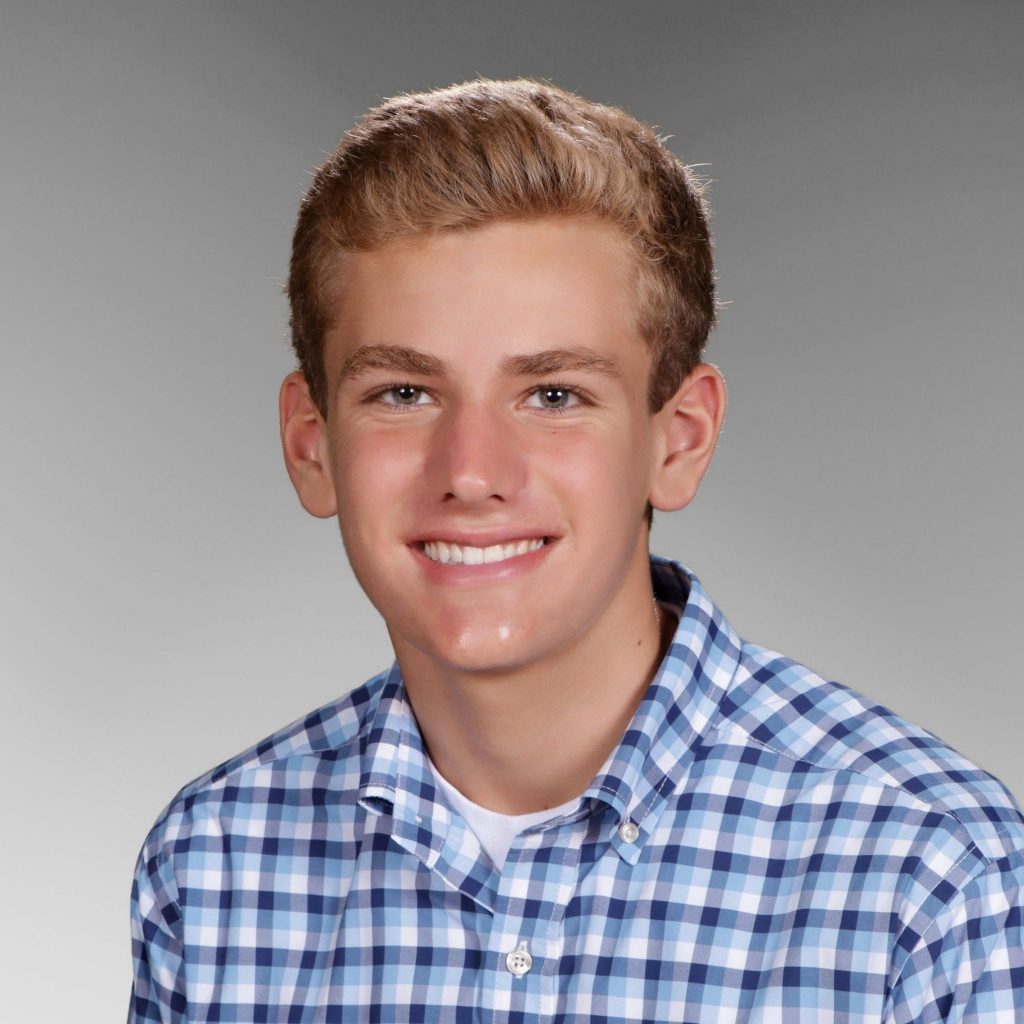 Rucker Robinson | Suwanee, GA
Rucker Robinson believes in service as a way of life. As a freshman at North Gwinnett High School in Suwanee, Georgia, Rucker formed intentional friendships with older students, and by the time he was a senior, he was committed to his role as a mentor of younger students. He was a member of the Varsity Swim Team all four years, served as Captain his senior year, and competed in the USA Swimming State Championship Swim Meet. He was also a member of the North Gwinnett Student Leadership Team for three years, organizing multiple school-wide and community service events. Between teaching pre-school age children every Sunday at his church, coaching swimming for elementary age children, and fundraising for pediatric cancer research with Swim Across America, Rucker finished high school logging over 350 hours of community service. Academically, he pushed himself with 13 AP courses and finished fifth in his class of 735 students. He also assisted with research at a molecular virology lab at the University of Georgia working to develop an HIV vaccine. Rucker received a Stamps Scholarship, and is interested in pursuing the pre-med track at Wake Forest and eventually becoming a pediatric oncologist. Above all, Rucker is committed to kindness. As a Leadership and Character Scholar, he looks forward to learning about all the virtues and challenging himself in new ways.
---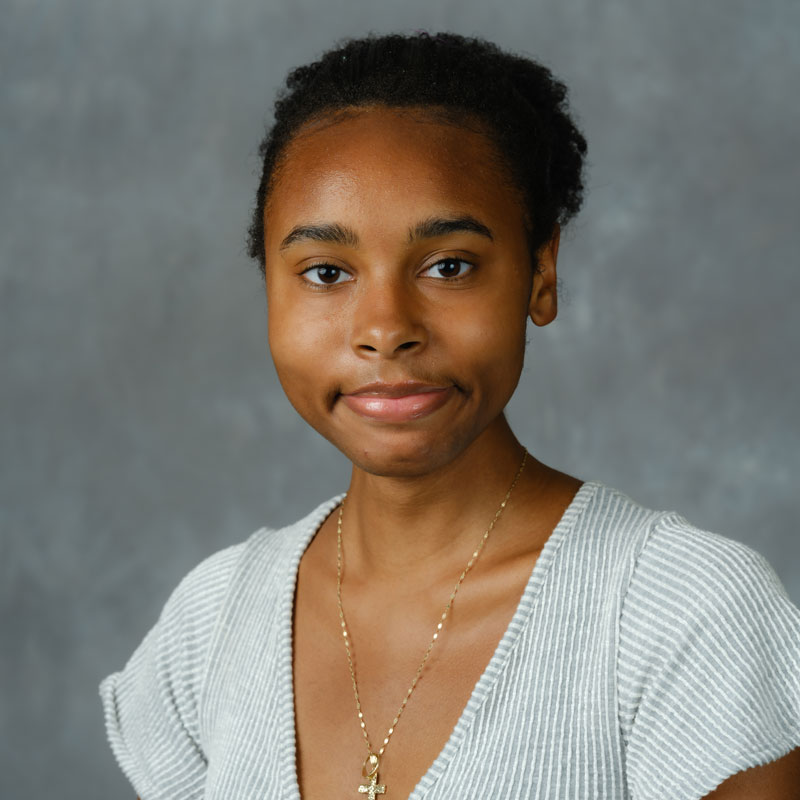 Cheyenne Surin-Bullard | New York, NY
Cheyenne Surin-Bullard takes pride in the five flags that make up her identity. The daughter of a Haitian-born mom with Native American, Cuban and Bahamian ancestry on her dad's side, she is trilingual, speaking French, Spanish, and English. Cheyenne is dedicated to her Roman Catholic faith. She was very active in The Beacon School's Student Leadership team, also serving as a College Now Ambassador. At Gallop NYC, which offers equine therapy for disabled children, Cheyenne was first Lead Walker then Paddock Master. She also worked with Queens' Youth Court, offering non-violent youth offenders rehabilitation alternatives. For her unwavering dedication to service, Cheyenne earned The Carrie Terrell Youth Achiever Award from the YMCA. After graduating from Beacon in 2019, Cheyenne took a gap year, working at a law firm that stirred her interest in medical ethics. While coronavirus closures curtailed her commitment to shadow a rheumatologist for six months, she is eager to complete an internship in medicine. Wake Forest's motto of Pro Humanitate reflects her values, especially as a Scholar devoted to leading with character.
---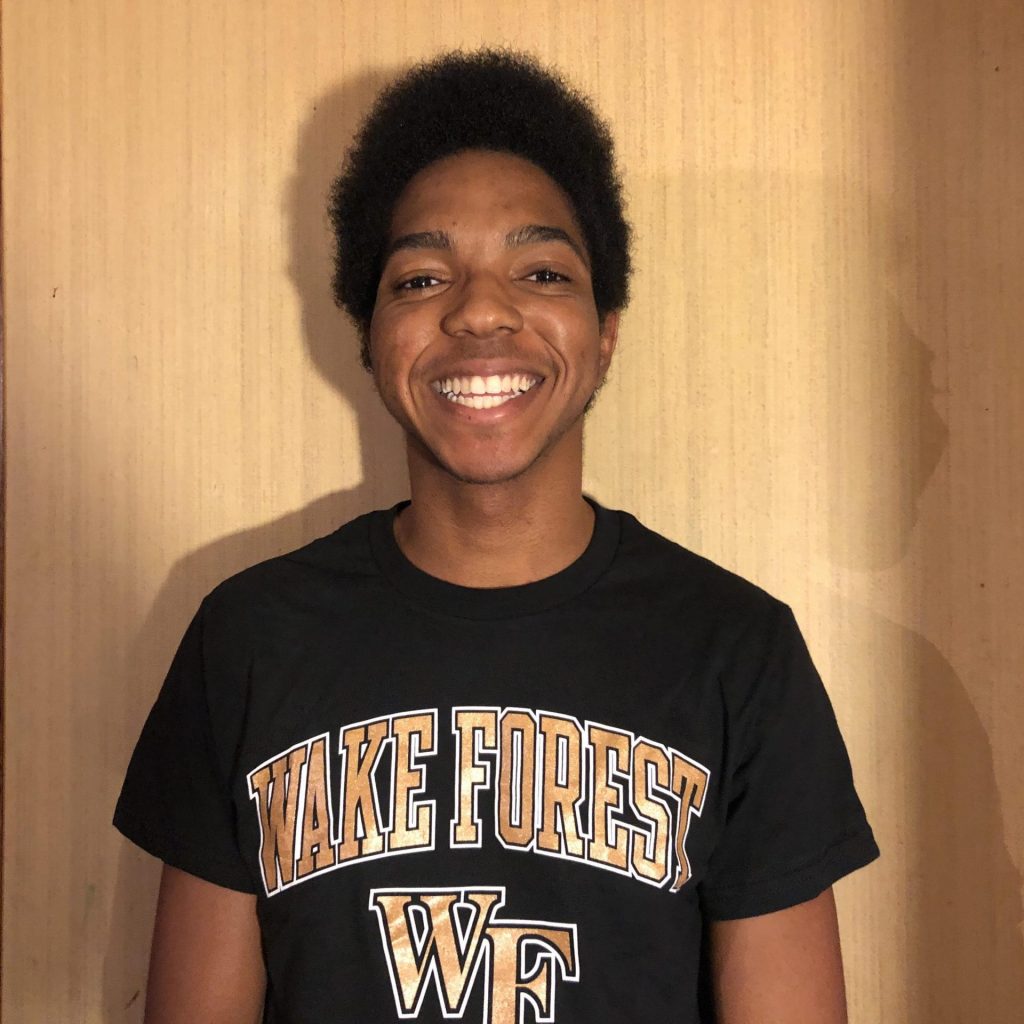 Austin Torain | Hurdle Mills, NC
Austin Torain thrives on new experiences. Growing up in Hurdle Mills, North Carolina, Austin attended Person High School until his junior year. He then transitioned to North Carolina School of Science and Mathematics in Durham. Experiencing two schools allowed him to appreciate both experiences immensely: the particular teachers and administrators who populate those communities, and the meaningful friendships he gained along the way. While at NCSSM, he pursued advanced courses in biology, chemistry, and math. He was also a co-captain of the hip-hop dance group, Enthalpy, as well as captain of the track team. A constant throughout Austin's life is his penchant and ability in music. He participated in band for four years playing the euphonium and plays in the marching band at Wake Forest. Austin was selected as a Gordon Scholar, and the wealth of opportunities for knowledge and personal development at Wake Forest excite him. He is especially interested in the emerging Neuroscience Program as he hopes to ultimately become a neurosurgeon. Austin's infectious zest for life buoys all around him, and he looks forward to investing in the Leadership and Character community.
---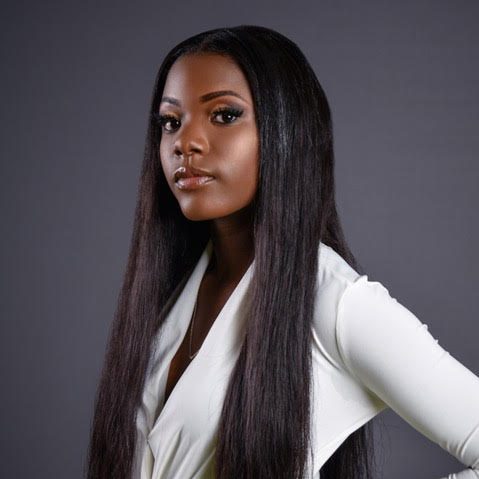 Iyana Trotman | Newark, NJ
Iyana Trotman intends to leave a legacy. From her avid reading of Toni Morrison and James Baldwin to Sigmund Freud and F. Scott Fitzgerald, she believes in soaking up knowledge from every source. At just 12 years old, she started North Star Academy College Preparatory High School in Newark, New Jersey. She managed to balance a rigorous course load of 10 AP classes with cheering on the varsity cheerleading squad and captaining the debate team. She was president of the Sisters Who Elevate club, which offers mental health and academic support to girls, and a member of Floyd's Elite Double Dutch team for four years. Her sophomore year, she traveled to Bolivia for a cultural exchange to live with local residents and learn about a distinctive culture. From her interest and skill in policy debate, Iyana hopes to study politics and international affairs and African studies at Wake Forest. She values learning through dialogue and relishes the opportunity for intentional and authentic conversations with the fellow Leadership and Character Scholars.
---