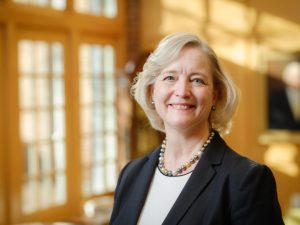 At Wake Forest University, the spirit of Pro Humanitate urges us to develop leaders of character to serve humanity in radically collaborative ways. It calls us to embrace the values we profess and take our commitment to our mission seriously. Wake Forest has a long legacy of embracing and upholding these values as the fuel for bettering our community and society.
Wake Forest continues to be dedicated to academic excellence and cultivating leaders of great character and intellect who will transform our world for generations to come. The Program for Leadership and Character, formed in 2017, is spearheading our efforts.
Led by Michael Lamb and Kenneth Townsend, the Program aims to transform the lives of our students and further define what it means to achieve success through a combination of character, commitment and purpose. At Wake Forest and in the Program, our students learn that doing well means doing good. They learn how to answer the call of Pro Humanitate and why it is necessary for a life worth living.
The Program has received significant support and enthusiasm from our community. Through an exciting variety of programming efforts, the Program has engaged a diverse array of students devoted to asking and living the questions surrounding "what kind of life do I want to live?" Led by cutting-edge research, our students are discerning how to grow and thrive at Wake Forest and beyond. Since its creation, the Program has hosted three international academic conferences including Cultivating Virtue in the University in 2017, The Arts of Leading in 2019, and Character and the Professions in 2021, which attracted thousands of individuals around the globe. An education that shapes the whole person is both necessary and desired in our world. The Program is vital to our ability to meet this moment and produce leaders for a better future.
Through our active work in educating leaders of character, Wake Forest and the Program for Leadership and Character are embracing the values we profess and taking seriously our commitment to fulfilling our mission.
Sincerely,
Susan R. Wente, Ph.D.