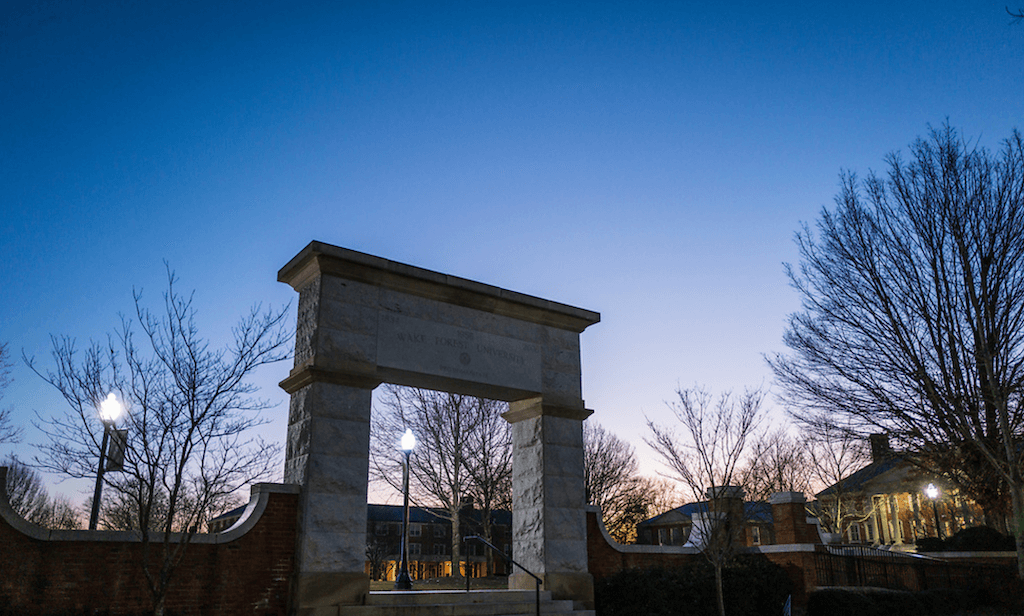 [Read this story at news.wfu.edu]
The Kern Family Foundation has awarded Wake Forest University an $8.6 million grant to develop programs that put character at the center of preparing students for work in the professions.
The grant will expand the work of the University's nationally-known Program for Leadership and Character to equip future leaders in medicine, law, engineering and other professions to think in holistic ways about their values and work.
"We are grateful for this transformational support from the Kern Family Foundation to cultivate leaders of character," said Wake Forest University President Susan R. Wente. "As is our tradition, we will continue to develop leaders who will support the flourishing of their fields and of humanity in the spirit of our motto, 'Pro Humanitate.'"
The new funding will enable the University to build character-based leadership development into professional and pre-professional programs in groundbreaking ways. Plans include the creation of a Center for Personal and Professional Development at the School of Medicine and a program to prepare law students for work with judges after graduation. The grant will also support professional advising for pre-law and pre-med undergraduate students that integrates larger questions of character, purpose and professional identity. Funding from the Foundation will help expand character-based initiatives already underway in the Department of Engineering and foster interdisciplinary learning opportunities for professional school students and faculty that extend beyond the classroom.
"We aim to transform the lives of students and further define what it means to make an impact through a combination of character, commitment and purpose," said Michael Lamb, executive director of the University's Program for Leadership and Character. "It is essential that students acquire the knowledge and skills needed to do meaningful work in their professions as well as the virtues and values required to live with integrity and purpose."
The goal is to develop programs at Wake Forest that serve as a national model and resource for other professional schools to integrate leadership and character into their coursework and cultures.
"The integration of character and purpose into the education and training of the rising generation of professionals is crucial for the future of our institutions and the flourishing of our society", said James Rahn, President of the Kern Family Foundation. "The Foundation is delighted to support the efforts of the Program for Leadership and Character to collaborate with the School of Medicine, School of Law, Department of Engineering, and the College's pre-professional programs on this innovative and important work that is positioned for strong impact both at Wake Forest and across higher education in the United States."
"These professions-oriented efforts reflect our commitment to highlighting the value and meaning of work and catalyzing a broader public conversation that places character at the heart of leadership," said Kenneth Townsend, the director of Leadership and Character in the Professional Schools, who joined the University in 2019. Under the leadership of Townsend and Dean Jane Aiken, the School of Law has already started to build its reputation as a leader in character-based legal education.
Redefining 'thinking like a lawyer'
"We are committed to redefining what it means to 'think like a lawyer' that goes beyond knowledge and skills," said Aiken. "Wake Forest's character-oriented approach to professional identity – one that prioritizes virtues such as integrity, honesty, wisdom, empathy, humility and justice – has the potential not only to shape our own students, but to become a model for other institutions."
The grant will provide resources for the law school to:
integrate leadership and character into new and existing courses
provide law students with career guidance, coaching, mentorship and other forms of student support and programming to facilitate connections between values and professional practice
create a new and innovative character-based program for law student leaders from around the country who will clerk for judges after graduation
establish a national network of law schools committed to character-based leadership development and host a major national conference for law schools interested in undertaking similar work
Transforming medical education
For the School of Medicine, grant funds will enable the school to establish a new Center for Personal and Professional Development that will guide and support students, residents and medical professionals in developing virtues such as compassion, empathy, resilience and wisdom in their lives and work.
"We are delighted to partner with the Kern Family Foundation to advance our shared commitment to train and develop empathetic and compassionate health care leaders at Wake Forest School of Medicine," said Julie Freischlag, dean of the medical school. "This opportunity to transform medical education and shape our curriculum at our existing medical education programs in Winston-Salem could not come at a more perfect time as we look to extend our School of Medicine to Charlotte. Intentionally combining compassion, empathy and resilience, and a love of science and discovery, into the learning experience will benefit our students and the future health of our communities."
The grant will provide resources for the medical school to:
create a comprehensive program for coaching and mentorship of medical students
provide new character-oriented professional development opportunities for physicians and other medical professionals in Winston-Salem and Charlotte
integrate leadership and character into the medical school curriculum
Undergraduate education: Character on day one
In partnership with the Office of Academic Advising, the Program for Leadership and Character will also develop courses and workshops to support character education for undergraduates considering careers in health and law.
"Our faculty engage our students to be empathetic, critical thinkers and innovative leaders who use their personal experiences to build careers that not only achieve professional success but benefit the communities around them," said Dean of the College Michele Gillespie. "Health, law, and engineering are such fields where our Wake Forest students can make transformative change, and it's so exciting to see more opportunities opening for our undergraduates."
The new grant will support continued integration of leadership and character into the engineering curriculum. Since 2019, the Foundation has awarded more than $700,000 – including a recent two-year grant of $557,140 – to support Wake Forest's pioneering vision for the future of engineering education, which includes an emphasis on instilling entrepreneurial mindset and character development.
Character in the Professions Conference
In March of 2021, leading scholars joined physicians, attorneys, religious leaders, public officials, engineers, educators, business executives and other professionals gathered virtually to explore the role of character in the professions. The conference was funded in part with support from the Kern Family Foundation, in addition to support from the John Templeton Foundation and Lilly Endowment, Inc.
"We believe we can make an impact that could transform lives and institutions across the nation as we put leadership and character to work," Townsend said. From bringing distinguished leaders to campus to engaging students in conversations about character to supporting new scholarships, Wake Forest is widening the lens to explore how the rich and diverse perspectives of the humanities and liberal arts can enliven and expand our understanding of leadership. Read more about the University's commitment to connecting leadership with character and teaching students to be ethical leaders whose values, virtues and vision orient them toward the common good.
More Reading