Ten faculty-nominated seniors took the stage for the 2022 Senior Colloquium, reflecting on lessons learned and challenges faced as Wake Forest students. Among them were six students affiliated with the Program, each with unique thoughts to share.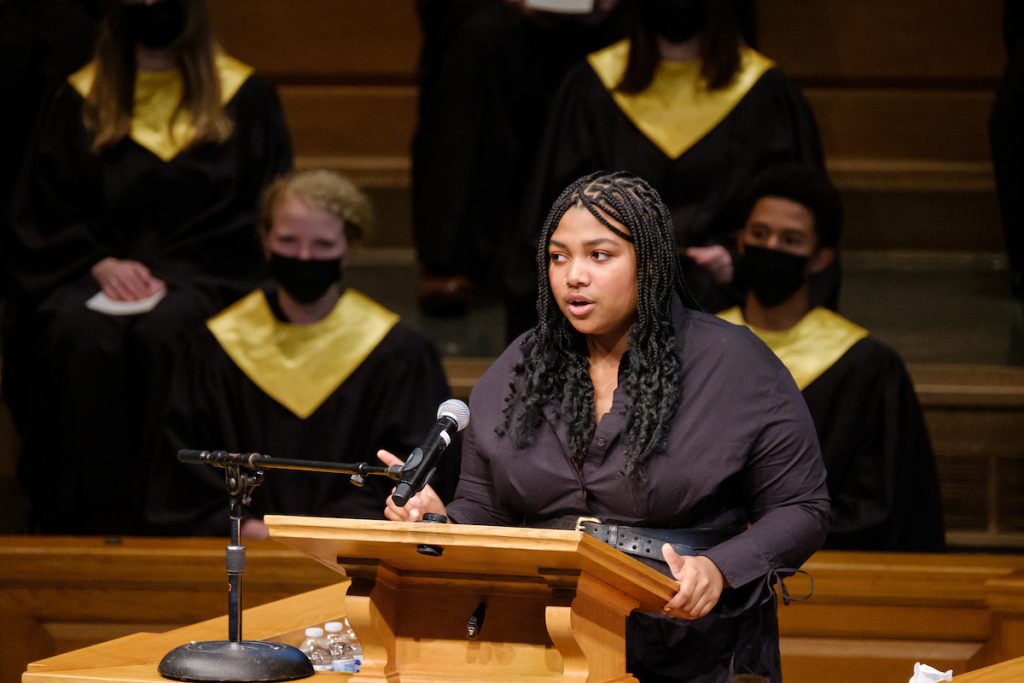 Each year, ten faculty-nominated students are given the opportunity to speak at the Senior Colloquium, which is organized by the Office of the Dean of the College. These orations help to preserve—and reexamine—Wake Forest traditions. Speakers reflect on their undergraduate experiences and share the lessons they have learned along the way. With unique perspective and a constructive outlook, these stories feature themes of adversity, introspection, and growth. Among the orators this year were six students who were involved with the Program for Leadership & Character through programming and coursework. A brief selection from each of their speeches is shared below:
---
Katherine Finch, The Statue Underneath
"I see us as blocks of marble. Having experienced some life, each block was a different size, possessing various cracks and crevices in different places. Each day in this institution would chip away at our hard exterior, soon to reveal the statue within."
Katherine is a Leadership and Character Ambassador and a contributor to Performing Character: From Stage to Page.
---
Liat Klopouh, Commencing Character
"College is more than just a sequence of the right moves. It's more than a traditional road map you follow to earn prestige. College is more than a seamless experience. Let it be messy. Let it be hard. And let it be imperfect."
Liat is a Leadership and Character Ambassador and a contributor to Performing Character: From Stage to Page. She took the "Commencing Character" course in Fall 2018.
---
Betsy Lake, Wrestling With the Shame of Uncertainty
"Searching for a purpose feels a lot like looking for the Loch Ness Monster right now. I finally dove into the water, and it sort of feels like I'm drowning. But, the thing that keeps me going is the hope that I might one day find it—my purpose."
Betsy was a 2021 Principled Pluralism Fellow, and her oration won third prize from a faculty panel.

---
Bea Pearson, Seized at the Root
"Just like in my childhood, being uprooted allows you to flourish—to seize hold of new fertile ground. For those who also find themselves feeling uncomfortable: find power there. I did."
Bea was a 2021 Principled Pluralism Fellow and has participated in Leadership & Character discussion groups. Her oration won top honors from a faculty panel, and she was chosen to give her address during the Founders' Day Convocation. You can find the full text here.
---
Adarian Sneed, Everything Changes, Nothing Remains the Same
"Change is bound to happen, and what it looks like is out of our control. So, if I've learned something over the past four years, it is not to be afraid of change. Instead, take it as it comes, because each and every change lends itself to the evolution of our lives."
Adarian participated in our technology discussion group in Fall 2020 and is a contributor to Performing Character: From Stage to Page.
---
Grace Williams, The Middle Seat
"Your imperfections, flaws, and differences are the parts of you that make this world a better place. No one can tell you how to be you. Everyone in this room brings something different to the table, and nothing is more beautiful than a person who is not afraid to be themself."
Grace participated in one of our discussion groups in Fall 2020 and took "Commencing Character" in Fall 2018.