Iyana Trotman is Up For Debate
In her first year, the Leadership and Character Scholar from New Jersey is already making an impact on Wake Forest's storied debate team. She's also prepared to speak up in almost any situation, in competition and on campus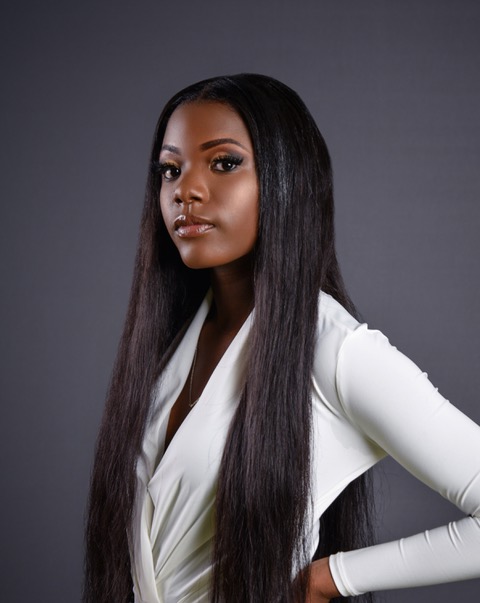 Some students join debate teams when they're in middle school. Iyana Trotman ('24) started when she was in 11th grade. Even though she hadn't grown up around debate, it didn't take her long to pick it up. "In my senior year," she says, "I started being a winner."
Her performances at national tournaments attracted the eye of two debate coaches and Wake Forest University alumni: Taylor Brough and Ignacio Evans. They put Iyana in touch with Justin Green, Wake Debate's head coach, and fellow debate faculty Dr. Amber Kelsie and Dr. Jarrod Atchison. The three, along with others, encouraged Iyana to make the leap from North Star Academy College Preparatory High School in Newark, New Jersey to Winston-Salem.
She picked up right where she left off. In April, Iyana had her strongest showing in her young college debate career and finished as the third individual speaker at the Cross Examination Debate Association's National Tournament. "These speaker awards are given to students who speak with power, passion, efficiency, and strategy," Green says. "In its own right, third speaker at CEDA Nationals is quite incredible — the highest that anyone at Wake Forest has achieved in our 20-year history of attending the tournament. Throw in that Iyana is a first-year collegiate student; this is quite a mind-blowing achievement."
It was a place where Iyana wanted to do well, where she identified with a lot of her fellow competitors. "CEDA features a lot of Black women and Black LGBTQ debaters," she says. "It's the people's tournament."
"She's not debating something that's hypothetical to her. Her identity is passionately invested in the topics she cares most about."

Ann Phelps
Iyana and her debate partner, Aida Bathily, also helped propel Wake Debate to a 5th place team finish, with wins over Emory, USC, and several others. In their preparation and presentation, they both took the topic—foreign alliances—and homed in on something that meant a lot to them: the very notion of alliance and what that means in a world of gendered anti-Blackness. Iyana combines the theoretical and the personal side of the issues. "She's not debating something that's hypothetical to her," says Ann Phelps, a mentor and the director of the scholars program in Leadership and Character. "Her identity is passionately invested in the topics she cares most about."
Iyana, the recipient of the Winslow Family Scholarship for Leadership and Character, says debating allows her to fuel her competitive side, but also requires a lot of research. She pours through citations, theories, footnotes, and resources, looking for connections, small details and big ideas. It's also helped outside of competition as well. "I can write really long papers really quickly," she says, laughing.
Speed, though, is an element that Iyana can change to her advantage. In the extremely fast verbal cadence of college debate competitions — one in which outsiders might compare to listening to a podcast at double-speed — Iyana, purposely, slows down. "She doesn't speak as fast as some of her competitors, even though she's capable of doing it," says Green. "She utilizes her time and stays true to who she is."
That's one way in which Iyana is setting her own path in debate, and beyond. "In some ways, her great strength is that she's not debating because she was groomed for it," says Phelps. "She is coming to the table as her full self, and speaking with the conviction of someone who reads these things and learns these ideas and absorbs this content because she wants it to shape who she is as a person. She's just insatiably curious."
That curiosity pairs with a lot of hard work. Students who debate put in 10 to 20 hours of preparation every week. They travel. They work closely with coaches on specialized arguments. "We like to consider ourselves a Division I academic sport," Green says of Wake Debate. "It's an extreme commitment, and Iyana has done really well.
"She speaks with precision, power and passion, and that combines a knowledge of deep theoretical academic concepts with great poetic language. She's a brilliant strategist that breaks down theory in a way that utilizes passion and power that truly captures a room."
In short, Green says, "when Iyana speaks, you listen."
The Hard Work
Iyana says the skills and focus she's honed in debate help her think through the complicated concepts she encounters in the classroom and on campus. "I am the person who will challenge anything anyone says at any given moment. That's from debate," she says. "But also, thinking about character and ethics and morality and how we become better people. It always requires us to look at bigger systemic things and bring them down to earth."
"When Iyana speaks, you listen."

Justin Green
Phelps says in the Leadership and Character Scholars Program, where diversity is valued and openness is key, Iyana is one of the most willing to engage in a respectful difference of opinion, among both her fellow students, with faculty, and even with her. "I think what she brings to the Scholars Program is an openness and a courage that creates space for other people to be fully who they are, rather than asking other people to be more like her," says Phelps. "It creates space to say we are all different in really beautiful and powerful ways." Iyana may disagree, and when she does, she often brings the receipts. But it's a starting point to a larger conversation, not an ending point. "Iyana is here to shake up things that need to be shaken up," Phelps says.
Iyana, then, is challenging ideas and norms both in debate, on Wake Forest's campus, and within herself. "Debate kind of forces me to kind of explain my social location in ways that will help me get through the world," she says. "Because there's no doubt that it's hard being Black and queer and a girl in the world. And debate has given me the theoretical pieces to maneuver through all of those things."
To be informed about opportunities for discussion groups, events, and more from the Program for Leadership and Character, click or tap on the button below:
This story was published on May 27, 2021.