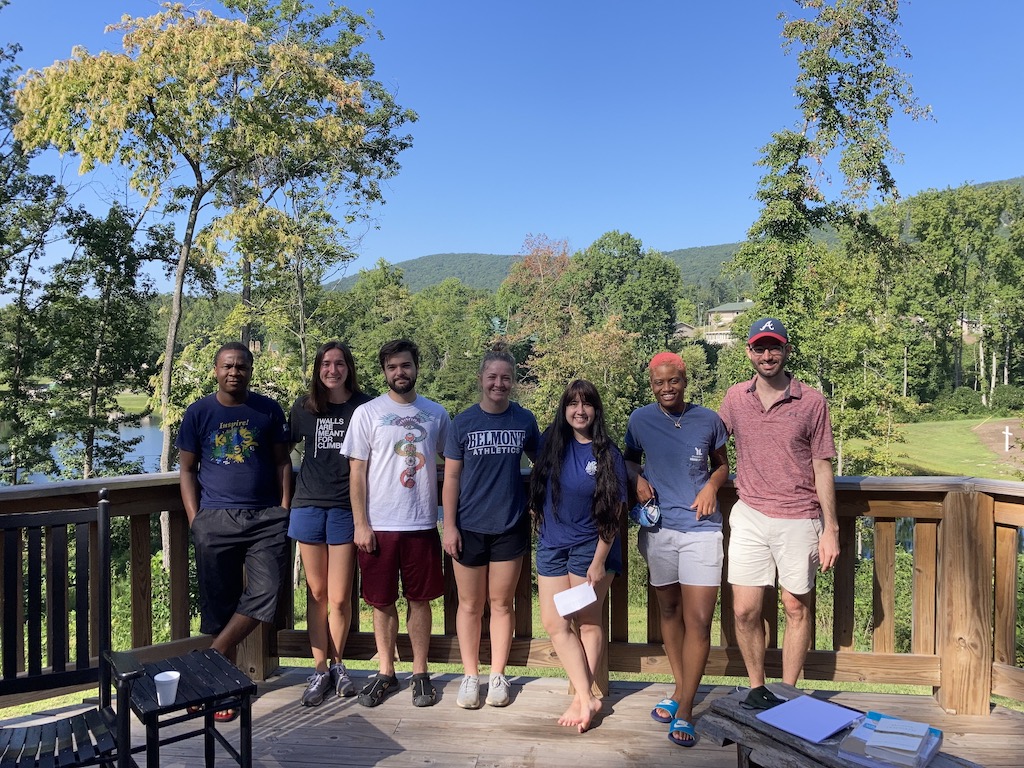 For students caught up in the academic experience, it can be easy to lose a sense of connection with the natural world. From library study sessions to taking meetings over Zoom, the productive life of a student may make it feel that nature and its many benefits are a distant reality.
In August, the Program for Leadership and Character sought to renew this human-nature connection for students by holding its Flourishing Retreat, led by Dr. Elizabeth Whiting Pierce, the Assistant Director of Leadership and Character in the Professional Schools. During the three-day outing at Camp Hanes, students were introduced to practices that helped bring them closer to nature and each other. Students enjoyed activities such as forest bathing, nature art, and personal gratitude rituals, as well as more traditional outdoor fun in the form of paddleboarding, ropes courses, and stargazing. A wide range of activities allowed students to consider ideas from environmental appreciation to professional purpose, as well as to simply enjoy their time outside.
"I sometimes forget, or undervalue, the importance of fun in my life," said one student reflecting on the retreat. "The ropes course really brought me into that space, and because I had fun I felt relaxed. I hope to better incorporate fun into my life throughout this semester."
Students were free to enjoy whichever activities they liked and build upon ideas they valued, which, for another student looking back on the retreat, was building a deeper understanding of their peers' perspectives. "I found our time with each other most meaningful," the student said. "Hearing about others' life experiences and hopes for the future is always a gift. It offers different perspectives and approaches."
For attendees, it was an opportunity to experience not only how nature can make them feel less stressed and more grateful, but also how it can make them even kinder, stronger, and more purposeful people.