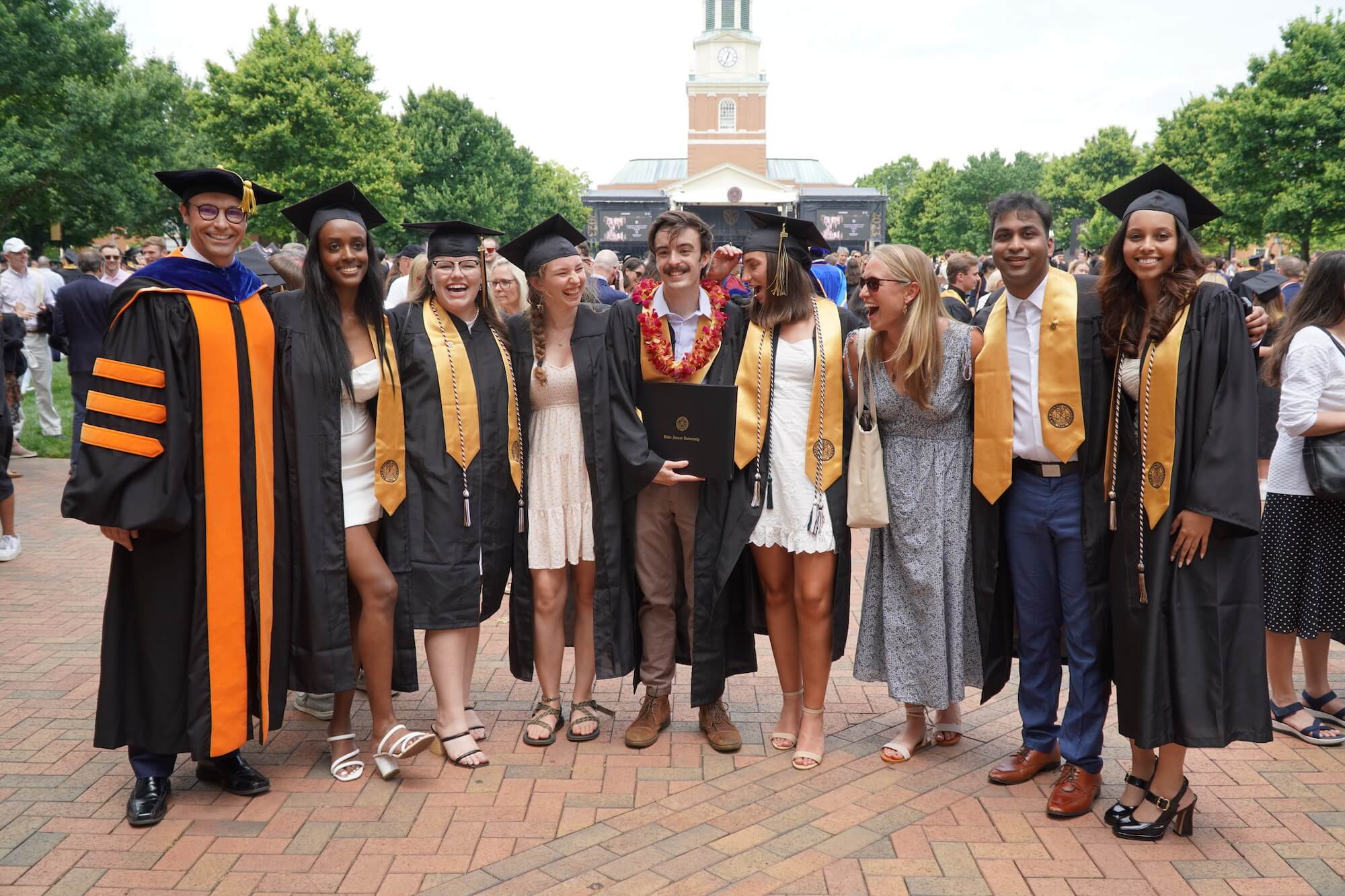 This week, the inaugural class of Leadership and Character Scholars graduated from Wake Forest University. The Scholars program is funded by generous supporters and a variety of sources. Every year, the scholarships allow a group of 10 to 12 new students to attend Wake Forest University, free of charge. In return, Scholars agree to participate in specially designed programming, community engagement, and research. After four years, members of the inaugural Class of '23 found the experience to be deeply personal and meaningful.
For this story, we interviewed three Scholars and the Director of the Scholars program, Ann Phelps. Here, they talk about what the experience has meant to them in their own words. These interviews have been edited for brevity and clarity:
The Beginnings
Ann Phelps, Director of Programming: When the Program for Leadership and Character was getting off the ground, it relied on a ton of excellent theory from philosophy and psychology. One of the elements of that theory was that character formation doesn't happen quickly. It happens slowly over time. It happens even more deeply when you are in consistent community with the same people.
The first group of 10 Leadership and Scholars who just graduated? Over four years, they took the theory and put it into practice.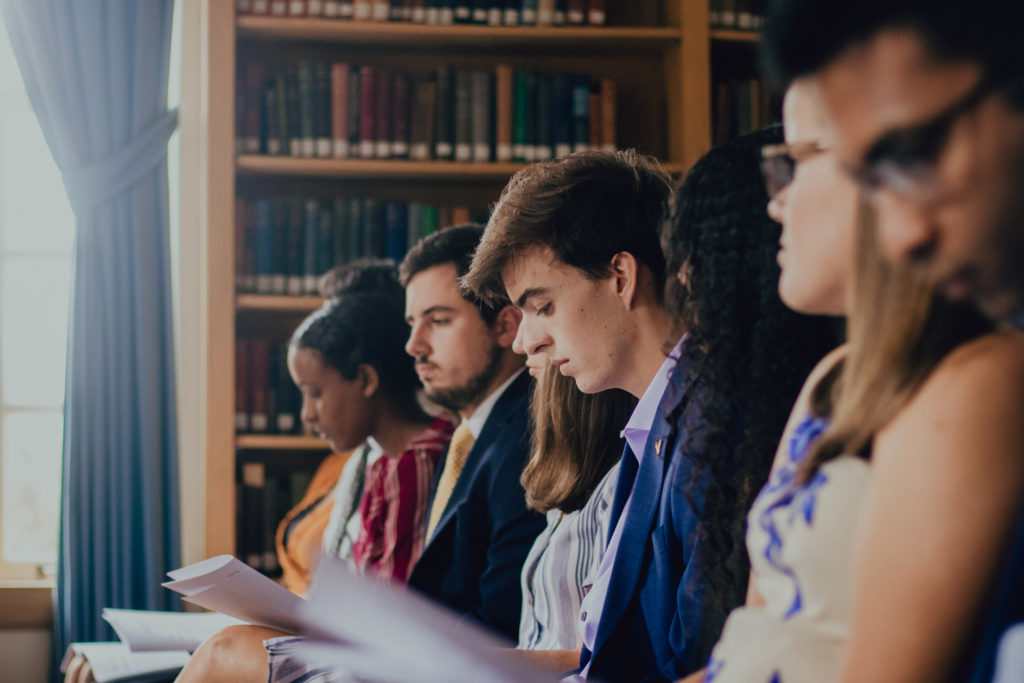 Rachel Edwards ('23), Scholar: I feel incredibly grateful to be a part of the inaugural class. I think it's been really wonderful over the last four years to see the Program grow, but to also see where it came from and to have been a part of its beginnings. It's a very humbling thing for people to have taken a chance on my cohort when there wasn't a precedent for what Scholars were supposed to look like.
Phelps: Our Program has been shaped by their interests, their questions, their identities, their issues, their struggles, and their successes.
It's a very humbling thing for people to have taken a chance on my cohort when there wasn't a precedent for what Scholars were supposed to look like.

Rachel Edwards ('23), Scholar
Olivia Blake ('23), Scholar: I've grown in humility over these last four years. But I came in thinking I had all of these things to offer. And I think I now realize I'm just one human being, and that other people are doing great things as well. I've met other people on campus over the past few years and felt like: Why was I the one picked out of all these applications?
Phelps: Part of why we selected them was that they were so willing to be open and vulnerable with themselves. They were willing to be open and appreciative with others.
Blake: I really enjoyed the weekly meetings as first-year students. I think just setting that groundwork for us was very beneficial, and I think it helped us grow closer together.
Phelps: They really do feel like siblings at times. They are not under any illusions about each other. They lived together. They were roommates as first-year students. They see each other's flaws. They do not see each other as perfect. They don't have imposter syndrome with one another. That allows them to have really, really difficult conversations. I have seen them go through genuine conflict, have genuine true issues with each other, and hurt one another. I've seen them learn from that experience and care about one another.
Edwards: I've really just enjoyed all of the meetings that my cohort has had over the last few years, and especially post-COVID, just because we were together for so long. It's a really wonderful thing to see each other in the same room and know how far we've come in the last four years. Everyone has grown so much.
The Impact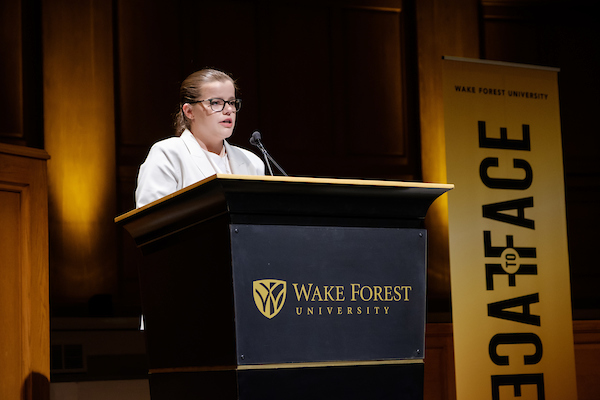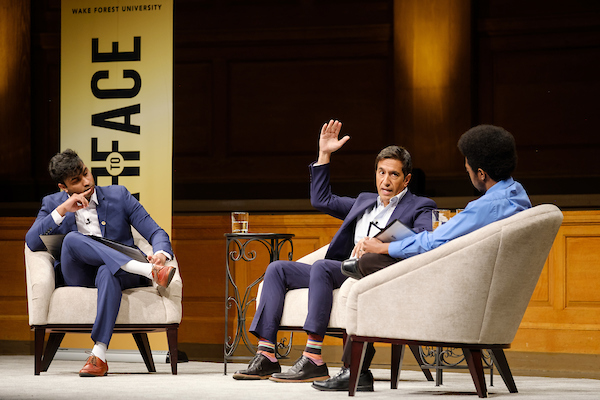 Blake: Probably the most influential thing that happened was actually the Face to Face series. I have idolized Dr. Sanjay Gupta for ages. I used to want to be the next him when I came in thinking I wanted to be a neurosurgeon. And so, getting not only to meet him in person, but then get to pick his brain after the fact about what my future plans were, and then him saying you're on the right path? That's pretty cool coming from someone you've looked up to.
But I think more important than any of the events is the people.
Phelps: From our preliminary data on these Scholars, we see that the most transformative elements of this program are, first and foremost, related to their differences. Socioeconomic differences, what they major in, what they're interested in going into, what part of the country or world that they're from or moving to. We have students who are engaged with one another across significant differences in a prolonged way talking about substantive, difficult, and meaningful things.
Edwards: I'm going to law school. You can get a lot of different perspectives on the law. You can encounter a lot of people who have different opinions about how the law should be applied, and what justice looks like, and how to treat injustice. And I think I've really been given the ability to challenge things in a way that makes meaning out of difference.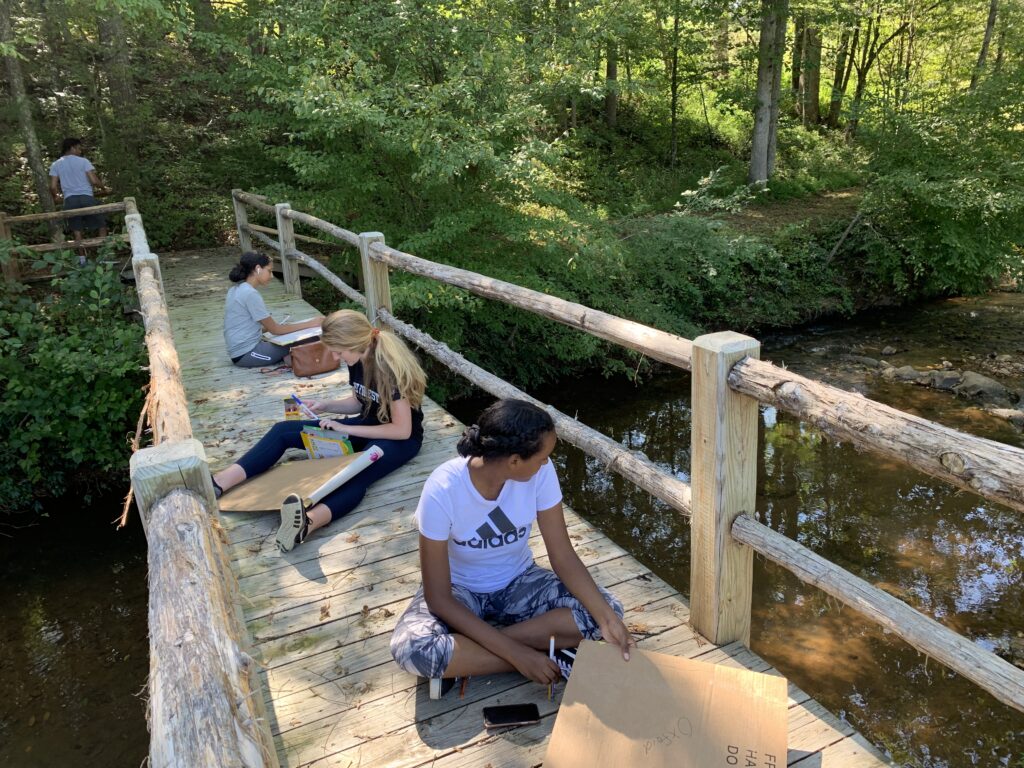 Phelps: Another thing we've seen anecdotally comes from being in proximity to mentors, role models, or exemplars. The proximity of that exemplar is important because they can become a mentor. The theorists already suggested this, but what I am seeing most significantly is: Not only can the student see and be inspired by and elevated by the person they're witnessing, but that mentor sees them in return. That person can step in and say: I see that you are trying to be this kind of person. Here are some of the obstacles that you're facing–some of your blind spots that you may not be able to see. That mentor can hold them accountable. They can encourage them. You are facing really hard things, You're doing an incredible job. I am going to support and care about you, no matter what. I think that is hugely transformative.
Akshey Suresh ('23), Scholar: I think one of the biggest things for me was definitely the personal mentorship that we got from the staff at Leadership and Character. Seeing Ann and Dr. Michael Lamb be exemplary really propelled my own leadership and character, along with the meetings and workshops that we did as well.
I would say I'm definitely more cognizant of how I approach situations, and I try to think of the aspects and viewpoint of leadership. I also try to emulate the exemplars that I've encountered here at Wake Forest as well.
Blake: Outside of Leadership and Character, I've had a few potentially bad examples of exemplars. People who've shown what not to do. This was always a place to return to.
Edwards: I think our first year seminar, "Commencing Character," taught by Dr. Lamb was certainly one of the most impactful things that I've done in college and certainly in the Program itself. It gave me that academic foundation that allowed me to really develop a passion for virtue ethics, which then motivated my desire to learn more about character itself, and then learn how that informs good leadership.
Phelps: This work has to be slow; it has to be intentional; it has to be small. We live in a culture that insists, for good reason, that we need to scale up. If something is working, we need to do more of it, and we need to do it more efficiently. But if we simply doubled the size of the Scholars' cohorts, it would compromise the caliber of conversations that they get to have together. You can't trust that many people that quickly.
The way to scale this is to empower more people to create these spaces. Many people are doing that, but it's really, really challenging to sustain them. And we've been really lucky at Wake Forest, which has supported us in the sort of slow, intentional nature of this work, rather than hurrying us and saying: we want outcomes now.
We're just starting to get outcomes. We're just starting to see our first class of Scholars graduate. They were the first students who could say: This Program is real. It is meaningful. I am a part of it. I care about it, and others should too.
Edwards: I try to lead with integrity. I think integrity isn't one of the 12 virtues that we home in on. But I think that it's one of the most important values that I try to have for myself. If we don't have integrity, then we don't have anything.
But of the virtues that the Program tries to teach and develop, I would say justice is what I'm most drawn to. I think my experiences at Wake Forest have led me to see a lot of injustice in my own life and in others' lives. And I think that motivated me to seek out what I am due and what others are due. Going to law school will only grow my love of justice in an academic, professional and practical sense.
They were the first students who could say: This Program is real. It is meaningful. I am a part of it. I care about it and others should too.

Ann Phelps, Director of Programming
Phelps: Character is really where we start and end this work. But leadership? It takes so many forms. I watched these students shape campus policies through quiet, closed door meetings. I watched these students shape the culture on campus by the ways that they take care of their neighbors and their peers. Our graduating Scholars have taught us that–while many of them are out there doing tremendously flashy, important, impressive things–character-based leadership is invisible, quiet, and silent the vast majority of the time. It may never garner the praise and recognition that people like to point to. But that slow, steady, quiet work is changing conversations, changing cultures, and changing lives.
What Now?
Blake: I'm getting my Master's degree in public health. After that, I'll be getting my M.D. with the ultimate goal being a public health physician. And I think in the short term, the Program's impact will help me as I go through each of these interviews explaining who I am and what I hold and value. That feels meaningful.
But I also think more importantly, it'll tie back into patient care. That's always been a big thing: showing the humanity of things. And I think that ties back to the idea of compassion. I want to carry that forward. As I start clinical rotations and interview patients for my capstone project and then as I carry on into my actual career as a doctor, I will continue to hold humanity at the forefront of what I do.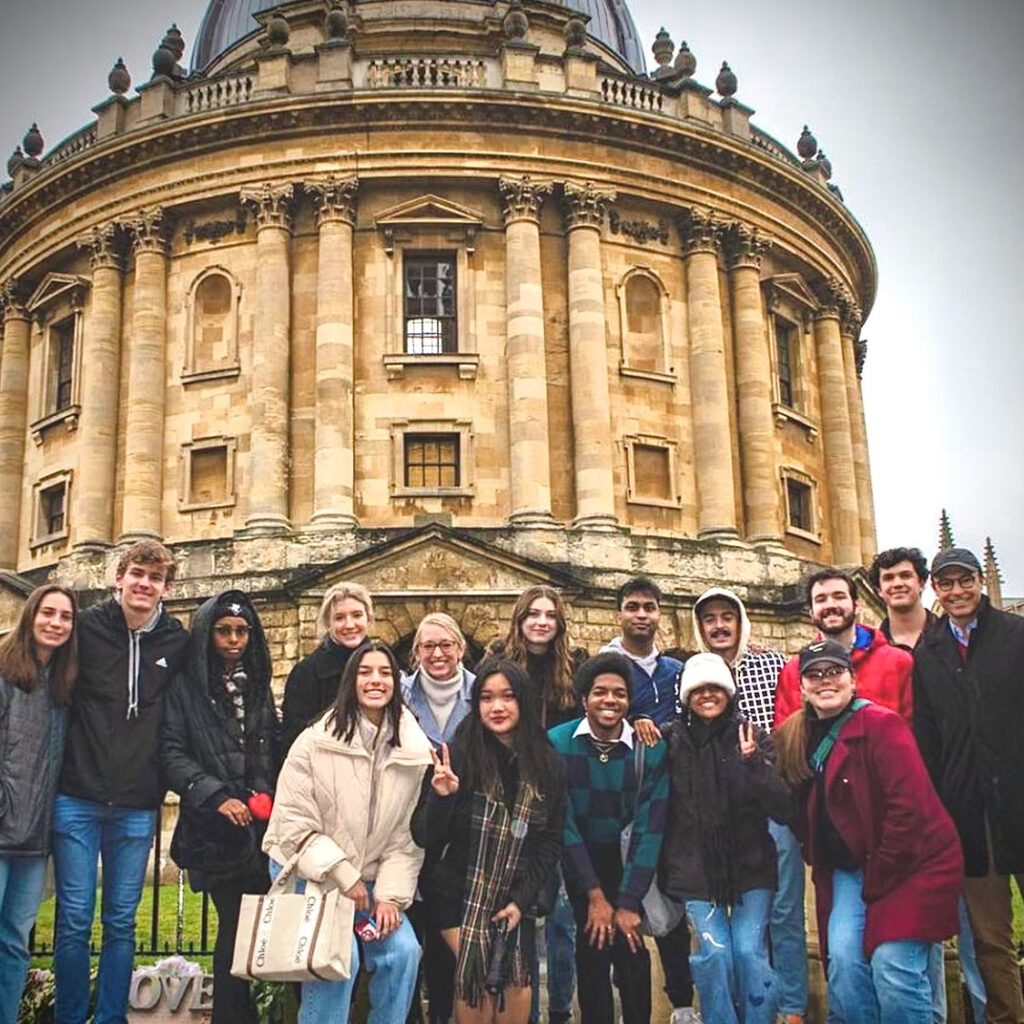 Suresh: I feel as though Leadership and Character has prepared me for a future in medicine. Post-grad, I'm going to apply to med school and then take a gap year. In terms of leadership and character, I feel like they are essential qualities of becoming a physician, especially with the changing landscape of medicine, the diversity of patients and the cultural competence you need for that.
Phelps: I hope that these Scholars will flourish. I hope that they will contribute to the flourishing of others, and that that will not be one big grand metanarrative, but that will be in the minuscule little choices of their daily lives, their homes, their jobs, and their communities. I hope that they will live in a way that does more good than harm. That recognizes the harm they do and tries to mitigate it. That recognizes the good they are capable of. And I hope they share that with others.
Suresh: It's been an absolute pleasure and honor to be a part of this Program, but to also be in its first graduating class. I've learned so much in this Program, and I'm excited to take that with me in my career.
Phelps: I hope that they will live in a way that is intentional. If they get praise, accolades, fame, and glory for that, I will be excited for them. But I hope that that's not why. I hope that they will do it because it is the right thing to do.
Edwards: This Program is literally who I am now. I don't think I'd be the same person without it. I talk about it all the time. Daily. All my friends know about Leadership and Character, just because I try to live that out in my everyday life.
So I imagine that in the future it will just be a part of who I am, and I hope that impacts others in a good way.