Keynote Interview and Performance by Renée Elise Goldsberry
6PM – February 1, 2019 – Wait Chapel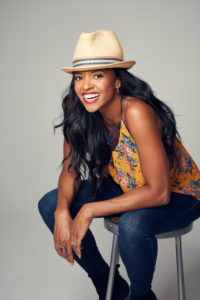 Renée received the Tony Award, Grammy Award, Drama Desk Award, and Lucille Lortel Award for her performance on and off Broadway in the musical phenomenon Hamilton.
Since winning the Tony Award, she has appeared in the title role of HBO's "The Immortal Life of Henrietta Lacks" opposite Oprah Winfrey, and in Baz Luhrmann's "The Get Down" for Netflix. She is currently starring in the hit Netflix series "Altered Carbon." Renée will next be seen in the Amblin Entertainment film "The House with a Clock in its Walls" opposite Cate Blanchett, Jack Black, and Kyle Maclachlan. In 2019, Goldsberry will appear in the Trey Shults feature WAVES opposite Lucas Hedges and Sterling K Brown.
Prior to Hamilton, Renée's appearances on stage include her Outer Critics Circle Award nominated performance opposite Frances McDormand in the play Good People, as well as the original Broadway version of The Color Purple. She made her Broadway debut in The Lion King, and her performance as Mimi in Broadway's closing cast of Rent was immortalized on film. Off-broadway, Renée's performance as Sylvia in the Public Theater's production of Two Gentlemen of Verona for their Shakespeare in the Park series garnered her across the board rave reviews.
Highlights from her television and film credits include her work on "The Good Wife," "The Following",  the animated series "The Lion Guard", the Universal Pictures hit, Sisters, the Independent Film All About You, and her creation of the beloved character, Evangeline Williamson, on ABC'S "One Life to Live," for which she received two Daytime Emmy nominations and two NAACP Image Award nominations. She will also lend her voice to the Dreamworks/Netflix animated series, FAST AND THE FURIOUS as Ms. Nowhere.
Confirmed Speakers
Kristin Bezio is Associate Professor of Leadership Studies at the Jepson School of Leadership Studies at the University of Richmond. Her research focuses on leadership in literature and film, leadership in performance, and cultural and political history in early modern England. She integrates the study of literature into the curriculum by teaching classes such as "Leadership and the Humanities" and "Leadership on Stage and Screen." She is especially interested in how literature, drama, film, and video games have influenced society and approaches to leadership and followership. She is the author of Staging Power in Tudor and Stuart English History Plays: History, Political Thought, and the Redefinition of Sovereignty and co-editor of Leadership, Popular Culture and Social Change and Cultural Icons and Cultural Leadership. She is also a company member and technical director for Host of Sparrows Aerial Circus—Virginia's first professional aerial and circus arts company.
Melissa Jones Briggs is a Lecturer in Organization Behavior at the Stanford Graduate School of Business. An alumna of Wake Forest's Department of Theatre and Dance, she trained as a theatre artist in London and New York and now combines performance techniques with social science research to offer new approaches to leadership. Focusing on relationships between power, status, and authority, her courses and coaching equip leaders with the capacities and skills to negotiate diverse personal and professional roles. At Stanford, Jones Briggs teaches a popular class called "Acting with Power," where students examine their relationship to power through in-class performances, social psychological research and reflection exercises. She also holds a faculty appointment at Stanford's Hasso Plattner Institute of Design ("the d.school"), where she teaches "Design for Influence: The Power of Performance." Outside academia, she designs, directs and deploys global leadership and inclusion programs for corporations, NGOs, academic and federal institutions. Her off-campus work often focuses on breaking down barriers to advancement for underrepresented leaders. Formerly, as a teaching artist, she developed curricula for underserved and special needs youth, empowering them to explore and express their authentic voice through devised performance. She serves as a Member of the Board of Directors at Youth in Arts, an arts education non-profit with a focus on social justice in the San Francisco Bay Area.
Edward Brooksis the Executive Director of the Oxford Character Project and head of its Global Leadership Initiative. He holds a BA in Modern History and DPhil in Theology, both from the University of Oxford.  At Oxford, his work joins research in the areas of leadership and character development to practical programs at the University of Oxford and beyond that focus on the virtues needed for leaders to serve the public good. He also pursues research on modern theology, technology, and the virtue of hope. He is currently finishing a book entitled What May I Hope For?: Modernity and the Augustinian Virtue of Hope.
Joy Connolly is interim President and Distinguished Professor of Classics at the Graduate Center of the City University of New York, where she previously served as Provost and Senior Vice President. Prior to joining CUNY, she was Dean for the Humanities and Professor of Classics at New York University. Her research focuses on Roman ideas about aesthetics, communication, ethics, and political action, particularly as they relate to the eighteenth-century and the contemporary world. She is the author of two books, The State of Speech and The Life of Roman Republicanism (both Princeton University Press).  Along with over 70 scholarly articles, chapters, and reviews, she has written for the Times Literary Supplement, The Nation, The Independent, The Village Voice, The Chronicle of Higher Education, and The New York Times Book Review. She is deeply interested in modern and contemporary art and has worked as a player/interpreter with the Berlin-based artist Tino Sehgal in pieces mounted at the Marion Goodman Gallery and the Guggenheim in New York.
Paul Escott is the Reynolds Professor (Emeritus) of History at Wake Forest University. A specialist in the history of the American Civil War, he has published nine books and edited eight volumes exploring the causes, effects, and aftermath of the Civil War, with a particular focus on leadership. His books include After Secession: Jefferson Davis and the Failure of Confederate Nationalism; Military Necessity: Civil-Military Relations in the Confederacy; "What Shall We Do with the Negro?": Lincoln, White Racism, and Civil War America; Uncommonly Savage: Civil War and Remembrance in Spain and the United States; Many Excellent People: Power and Privilege in North Carolina, 1850-1900; Lincoln's Dilemma: Blair, Sumner, and the Republican Struggle over Racism and Equality in the Civil War Era, and Rethinking the Civil War Era: New Directions for Research. He also served for nine years as Dean of the College at Wake Forest. He has received fellowships from the Whitney Young, Jr., Foundation and the Rockefeller Foundation, and twice won an award for the best non-fiction book published by a resident of North Carolina.
Marla Frederick is Professor of African and African American Studies and of the Study of Religion at Harvard University. An authority on religion, race, and ethnography, she pursues research on the study of religion and media, religion and economics, and the sustainability of black institutions in a "post-racial" world. She is the author of Between Sundays: Black Women and Everyday Struggles of Faith and Colored Television: Religion, Media, and Racial Uplift in the Black Atlantic World. In 2007, she co-authored a book entitled Local Democracy Under Siege: Activism, Public Interests and Private Politics, which won the Best Book Award for the Society for the Anthropology of North America. Her research has been supported by the National Science Foundation, the Milton Fund, and the Louisville Institute. She has served as the President of the Association of Black Anthropologists and, in October 2018, was elected Vice President of the American Academy of Religion.
Cindy Gendrich is Director of the Interdisciplinary Performance and the Liberal Arts Center (IPLACe) and Professor of Theatre at Wake Forest University. She directs annually for the University Theatre, and teaches acting, directing, devised theatre, introduction to theatre, and first-year seminars, including one on "The Morality of Joy." The recipient of a 2010 NEH grant from the Enduring Questions program and a 2018 NEA grant, she is interested in comic theory, acting and directing history, theory, and practice, and global forms of experimental theatre. Recent directing projects include Far Away, Marisol, Honk!, and Embers and Stars: the Story of Petr Ginz, a two-year long research and writing project with her students, and with Andy White, of the Tony Award winning Lookingglass Theatre in Chicago. She has written numerous articles and collaborated with colleagues on both articles and books, including the well-known theatre appreciation text, Theatre, Its Art and Craft, now in its seventh edition.
Thavolia Glymph is a Professor of History and Law and a Faculty Research Scholar for the Population Research Institute at Duke University. She studies the U.S. South with a focus on nineteenth-century social history. She is the author of Out of the House of Bondage: The Transformation of the Plantation Household, co-winner of the 2009 Philip Taft Book Prize, and co-editor of two volumes of Freedom: A Documentary History of Emancipation, 1861-1867. She is currently completing two book projects, Women at War: Race, Gender, and Power in the American Civil War and African American Women and Children Refugees in the Civil War. She has received grant support from the National Institutes of Health for her work on Civil War refugees and was the John Hope Franklin Visiting Professor of American Legal History at Duke Law School in 2015 and 2018. She is an Organization of American Historians Distinguished Lecturer, a member of the American Antiquarian Society, senior project scholar at the National Constitution Center, and vice-president of the Southern Historical Association.
Edith Hall is a Professor in the Classics Department at King's College London. Previously, she held posts at Cambridge, Oxford, Durham and London Universities. A leading international expert on the study of ethnicity, class and gender in ancient sources, ancient theatre, and the continuing influence of ancient Greek and Roman culture on modernity, she has published more than twenty-five books, including Inventing the Barbarian, The Return of Ulysses, Greek Tragedy: Suffering under the Sun, Introducing the Ancient Greeks, and, most recently, Aristotle's Way: How Ancient Wisdom Can Change Your Life. She co-founded the Archive of Performances of Greek and Roman Drama at Oxford and is Chairman of the Gilbert Murray Trust. Her research has been funded by the Arts and Humanities Research Council, Leverhulme Trust, British Academy, and Center for Hellenic Studies in Washington, and she has recently been awarded a Humboldt Research Prize, the Erasmus Prize Medal of the European Academy and an Honorary Doctorate from the University of Athens. She appears regularly on BBC Radio and has acted as consultant to productions of ancient drama at the Royal Shakespeare Company, the National Theatre, and other professional companies.
Pegram Harrison is a Senior Fellow in Entrepreneurship at the Saïd Business School at the University of Oxford. Previously, he taught entrepreneurship and strategy at the European Business School, London, and was Director of the Emerging Leaders Programme at the London Business School. He also taught literature and history at New York University and Birkbeck College at the University of London. A literature and humanities scholar by training, he teaches and researches entrepreneurship and leadership within an entrepreneurial context, with special interests in cultural institutions, the humanities, and the role of the arts in business education. He directs the School's "Engaging with the Humanities" programme of research, teaching and outreach (including the recently released Museum Leaders Report), and contributes to the Oxford Cultural Leaders programme, a senior executive education programme for arts and heritage professionals. Beyond Oxford, he works with various cultural institutions and policy bodies (such as ArtFund, National Trust, Arts Council, and others) on research projects and initiatives for enhancing cultural leadership capabilities.
Emil Kang is Special Assistant to the Chancellor for the Arts at the University of North Carolina-Chapel Hill. In this cabinet level position, he leads a groundbreaking initiative to integrate the arts with the teaching, research, and service missions of the university. In addition, he serves as Professor of Practice in the Music Department, where he teaches courses on arts administration and arts leadership. He is also Executive and Artistic Director of Carolina Performing Arts, UNC's multi-disciplinary performing arts program that hosts 60 performances each year. In 2012, President Barack Obama appointed him to the National Council on the Arts for a six-year term. Previously, he served as President and Executive Director of the Detroit Symphony Orchestra. He has also held positions with the Seattle Symphony and the American Composers Orchestra and was an Orchestra Management Fellow with the League of American Orchestras. Among his roles on numerous boards, he serves on the Board of Advisors for the Kenan Institute for the Arts at the University of North Carolina School of the Arts in Winston-Salem.
Elizabeth Kiss is CEO of the Rhodes Trust and Warden of Rhodes House at the University of Oxford. She is also an Associate Member of Oxford's Department of Politics and International Relations. Prior to joining the Rhodes Trust in August 2018, she served for twelve years as President of Agnes Scott College, where she completed the largest fundraising campaign in the college's history and launched a signature program, SUMMIT, focused on global learning and leadership development for all students. In 2017, the Chronicle of Higher Education included her on its list of the most influential people in U.S. higher education. From 1997 to 2006, she served as the founding director of Duke University's Kenan Institute for Ethics, building a university-wide interdisciplinary center focused on promoting moral reflection and commitment in personal, professional, organizational, and civic life. She previously taught at Randolph-Macon College, Deep Springs College, and Princeton University and is a trustee of Duke University. A Rhodes Scholar who specializes in moral and political philosophy, she has published on moral education, human rights, ethnic conflict and nationalism, feminist theory, and transitional justice. She is the co-editor of Debating Moral Education: Rethinking the Role of the Modern University.
Michael Lamb is Director of the Program for Leadership and Character and Assistant Professor of Politics, Ethics, and Interdisciplinary Humanities at Wake Forest University. He is also a Research Fellow for the Oxford Character Project. He holds a B.A. from Rhodes College, a Ph.D. from Princeton University, and a second B.A. from the University of Oxford, where he studied as a Rhodes Scholar. Prior to joining Wake Forest, he helped to launch the Oxford Character Project and served as Dean of Leadership, Service, and Character Development for the Rhodes Trust. At Wake Forest, he is working with faculty, staff, and students to design creative liberal arts-based programming that equips students to become leaders of character. His research and teaching focus on leadership and character development, the ethics of citizenship, and the role of virtues in public life. He has published numerous articles in politics, ethics, and religion and is co-editor of the forthcoming volume, Everyday Ethics: Moral Theology and the Practices of Ordinary Life. He is currently finishing a book entitled A Commonwealth of Hope: Reimagining Augustine's Political Thought.
Donovan Livingston is an award-winning educator, spoken word poet, and public speaker. In 2016, his Harvard Graduate School of Education convocation address, "Lift Off," went viral, reaching over thirteen million views. Since his pivotal speech, he has been featured on CNN, NPR, BBC, Good Morning America, and in news outlets across Europe, Australia, India, and South Africa. His convocation address was published as a book by Spiegel & Grau in 2017. Drawing on personal experiences as well as scholarship, Livingston examines the role of hip hop and spoken word poetry in student experiences in higher and postsecondary education. An impassioned and dynamic speaker, he incorporates creative elements into his lectures such as spoken word poetry and audience collaboration. He earned master's degrees from Columbia University and Harvard University, and is now a doctoral candidate at the University of North Carolina in Greensboro. He is currently the Program Manager for Pre-College Programs at Wake Forest University.
Jonell Logan is the Executive Director of The League of Creative Interventionists, a non-profit network of community catalysts using art and culture to reimagine our communities. Logan is an independent curator and arts advocate dedicated to supporting artists, transforming communities, and creating accessible creative spaces. She is the founder of 300 Arts Project, an arts consulting company that supports community engagement, equity and diversity in arts via training, strategic planning, and exhibitions. 300 Arts has partnered with a number of organizations including Advent Co-Working in Charlotte, NC, the National Black Arts Festival in Atlanta, GA, and the UTSA Institute of Texan Culture in San Antonio, TX, to develop programs and exhibitions that serve creatives, neighborhoods, and museum goers from diverse backgrounds. Originally from New York, she has worked at several arts organizations including The Metropolitan Museum of Art; Whitney Museum of Art; Studio Museum in Harlem. Moving South, she worked at the Gibbes Museum of Art in Charleston and the Harvey B. Gantt Center for African American History and Culture in Charlotte. Deeply invested in servant leadership, she is currently an American Leadership Forum – Charlotte Region Fellow. She is an alumnus of the Lee Institute's Leading for Change program; the Arts and Science Council's Catalyst for Cultural Equality program, and Leadership Charlotte. She is a member of The Women's Impact Fund and Goodfriends and serves in leadership at the Junior League of Charlotte.
Noelle Lopez is a Learning Lab Fellow for Ethics and Critical Engagement at Harvard University's Derek Bok Center for Teaching and Learning. Previously, she taught philosophy at Boston College and was a postdoctoral fellow at Harvard. A Rhodes Scholar who earned her D.Phil. in philosophy at the University of Oxford, she focuses her research on ethics, justice, and the philosophy of love, particularly in the thought of Plato. At Harvard, she collaborates with students, faculty, staff, and administrators to support pedagogical effectiveness and innovation, especially in response to inequities in the classroom and courses featuring ethical or community-engagement. Her approach to pedagogy is informed by years of competitive athletics and multimedia artistic practice as well as her study of ancient Greek philosophy as the pursuit of wisdom and a flourishing life.
David Lubin is the Charlotte C. Weber Professor of Art at Wake Forest University. He has published books in art, film, and popular culture, including Act of Portrayal: Eakins, Sargent, James; Picturing a Nation: Art and Social Change in Nineteenth-Century America; BFI Modern Classics: Titanic; Grand Illusions: American Art and the First World War; and Shooting Kennedy: JFK and the Culture of Images, which won the Smithsonian Institution's Charles Eldredge Prize for "distinguished scholarship in American art." Lubin has lectured at colleges, universities, medical schools, and art museums throughout the United States, Europe, China, and Australia. His awards include a Guggenheim Fellowship and research residencies at Harvard, Stanford, and the National Gallery's Center for Advanced Study in the Visual Arts. In 2016-17, he was the inaugural Terra Foundation Visiting Professor of American Art at Oxford University.
John Miles is a Research Associate at Wadham College at the University of Oxford. He previously served as Training Officer for the University of Oxford's Humanities Division and the Oxford Research Centre in the Humanities, where he led the professional and personal development programme for doctoral students and early career researchers across the humanities. Before joining Oxford, he taught Shakespeare and Renaissance Literature in the English Department at Royal Holloway, University of London, where he was Caroline Spurgeon Research Fellow. He completed his PhD on Shakespeare's First Folio and is working on another project reconsidering the early "bad" printed texts of Shakespeare. A successful entrepreneur, he is now the Founder and Chief Technology Officer of Inkpath, a career and skills development platform designed for universities and beyond.
Alan Mittleman is Aaron Rabinowitz and Simon H. Rifkind Professor of Jewish Philosophy at The Jewish Theological Seminary. His teaching and research focus on the intersection between Jewish thought and Western philosophy in ethics, political theory, and metaphysics. He is the author of seven books: Between Kant and Kabbalah; The Politics of Torah; The Scepter Shall Not Depart From Judah; Hope in a Democratic Age; A Short History of Jewish Ethics; Human Nature and Jewish Thought and Does Judaism Condone Violence? Holiness and Ethics in the Jewish Tradition. He is also the editor of Uneasy Allies: Evangelical and Jewish Relations; Jewish Polity and American Civil Society; Jews and the American Public Square; Religion as a Public Good; and Holiness in Jewish Thought. An active participant in interfaith dialogue, he has been interviewed by Time, Newsweek, the New York Times, and USA Today. He has received numerous awards and fellowships, including an Alexander von Humboldt Foundation Research Fellowship and a Harry Starr Fellowship in Modern Jewish History from Harvard University's Center for Jewish Studies. He has been a visiting professor at the University of Cologne and Princeton University.
As Founder and Artistic Director of Forklift Danceworks, Allison Orr creates dances that showcase the beauty and virtuosity in the practiced, habitual movement of labor and everyday life. Over the past 20 years, Allison has honed a methodology of ethnographic choreography that engages community members as co-authors and performers in the creation of large-scale civic spectacles. Named Best Choreographer of 2016, '17, and '18 by The Austin Chronicle, Allison was also a 2018 United States Artist Fellow. She graduated from Wake Forest University in 1993 and is now collaborating with IPLACe and WFU Facilities to create On Campus—a dance by, with, and for facilities employees to premiere in October 2019.
Ann Phelps has been working as a musician, teacher, public theologian, and arts educator since 2009 when she finished her graduate work at the Yale Institute of Sacred Music. Based in Jackson, MS, she works with colleges, divinity schools, and faith communities to envision how corporate rituals and collective creativity can empower communities to strive for justice and peace. Her research examines sacred music from various faith traditions, reengaging silenced voices from history and seeking new perspectives that can influence sacred practices in an increasingly divided and globalizing world. She serves as cantor, liturgical coordinator, and writer for the Theodicy Jazz Collective (theodicyjazz.com), an ensemble that has provided music leadership and theological reflection in communities such as Yale University, Cambridge University, Millsaps College, Canterbury Cathedral, Washington National Cathedral, and dioceses and churches from Los Angeles to London and Massachusetts to Mississippi. The Collective explores how jazz and gospel music can help religious communities understand changing identities, expand tradition, and spread a message of justice and mercy in the twenty-first century. Ann will join Wake Forest in July as Director of Programming for Leadership and Character.
Tahera Qutbuddin is Professor of Arabic Literature and Chair of Interdisciplinary Studies in the Humanities at the University of Chicago. Her scholarship focuses on intersections of the literary, the religious, and the political in classical Arabic poetry and prose. Using an interdisciplinary approach, she conducts research on Arabic oratory and Islamic preaching and poetry. Along with journal articles, book chapters, and encyclopedia entries, she is the author of Al-Muʾayyad al-Shirazi and Fatimid Daʿwa Poetry: A Case of Commitment in Classical Arabic Literature and the editor and translator of A Treasury of Virtues: Sayings, Sermons, and Teachings of Ali and Light in the Heavens: Sayings of the Prophet Muhammad. Her forthcoming book is entitled Arabic Oration: Art and Function (Brill, April 2019); she was awarded fellowships for this project by the Carnegie Corporation of New York and the American Council of Learned Societies.
Bill Scheidt is the Managing Director and Lead Facilitator of Sewa Beats North America. Sewa Beats is an international corporate training company that delivers programs in the areas of leadership development, communication and collaboration, all of which involve rhythm and music. Sewa Beats has worked in 19 countries and seven languages, and their clients include the Harvard Business School, IBM, Coca-Cola, Hewlett Packard, BMW, and Cisco Systems. Bill's mission is to impact the organizations that make a difference in today's world by connecting people to themselves, and to each other. He believes that by bringing a new paradigm of professional success to corporate communities, we can align ourselves with our true purpose, and achieve our peak potential as individuals, as organizations, and as a global human community. Inspired by spending more than a year and a half living in rural African villages, Bill brings to his work a passion for human connection, a strong working knowledge of business dynamics, and a love for music.
Gwendolyn DuBois Shaw is Associate Professor of American Art at the University of Pennsylvania, where she is affiliated faculty in Africana Studies, Cinema Studies, and Women and Gender Studies. Previously, she was Assistant Professor of History of Art and African and African American Studies at Harvard University. An expert on African American art, she is the author of Represent: 200 Years of African American Art in the Philadelphia Museum of Art; Portraits of a People: Picturing African Americans in the Nineteenth Century; and Seeing the Unspeakable: The Art of Kara Walker. She is currently finishing a book entitled Strictly A Negro Art: Sargent Johnson. In addition to being an art historian, she is also a curator. In the past decade, she has helped mount exhibitions at the Philadelphia Museum of Art, the Institute of Contemporary Art in Philadelphia, the Addison Gallery of American Art, the Arthur Ross Gallery at the University of Pennsylvania, and Penn's Museum of Archaeology and Anthropology. She has also partnered with numerous institutions, including the Museum of Fine Arts and the National Portrait Gallery, to develop and implement numerous exhibitions, public programs, and scholarly events.
Christina Soriano is Associate Professor of Dance and Associate Provost for Arts and Interdisciplinary Initiatives at Wake Forest University. She is also Director of the Dance Program, where she teaches improvisation, dance composition, modern dance technique, and a co-taught course with chemistry colleague Rebecca Alexander entitled Movement and the Molecular. Since 2012, she has regularly taught a community dance class in Winston-Salem, NC to people living with Parkinson's Disease and has been involved in three scientific studies examining how improvisational dance can improve the mobility and balance of people living with neurodegenerative disease. Her research has appeared in numerous journals across multiple fields, and her choreography has been presented throughout New England, North Carolina, New York, and in Vienna, Austria. As Associate Provost for the Arts and Interdisciplinary Initiatives, she is currently working with colleagues at Wake Forest to enhance visibility of the arts and help forge interdisciplinary connections across the arts and other Wake Forest schools and departments. She is also involved in an annual, interdisciplinary symposium, Aging Re-Imagined, which brings together the work of artists and scientists around the topic of healthy aging.
Co-Sponsors
The conference is co-organized by the Oxford Character Project and Wake Forest University as part of an ongoing partnership to support leadership and character development.
We are thankful for support from the National Endowment for the Humanities and from the following co-sponsors at Wake Forest:
Office of the President
Office of the Provost
Office of the Dean of the College
Office of Alumni Engagement
Office of Communications and External Relations
Office of Diversity and Inclusion
Office of Personal and Career Development
Office of Student Engagement
Office of Sustainability
Graduate School of Arts & Sciences
School of Business
School of Divinity
School of Law
School of Medicine
A. C. Reid Philosophy Fund
Center for Leadership and Character in the School of Business
Continuing Studies Programs
Department of Art
Department of Classical Languages
Department of English
Department of Engineering
Department of History
Department of Music
Department of Philosophy
Department of Politics and International Affairs
Department for the Study of Religions
Department of Theatre and Dance
Department of Women's, Gender, and Sexuality Studies
Humanities Institute
Intercultural Center
Interdisciplinary Humanities Program
Interdisciplinary Performance and the Liberal Arts Center (IPLACe)
Jewish Studies Program
LGBTQ Center
Middle East and South Asian Studies Program
Professional Development Center
Program in Medieval and Early Modern Studies
Provost's Office of Global Affairs
Reynolda House Museum of American Art
Teaching and Learning Collaborative
University Advancement
Women's Center