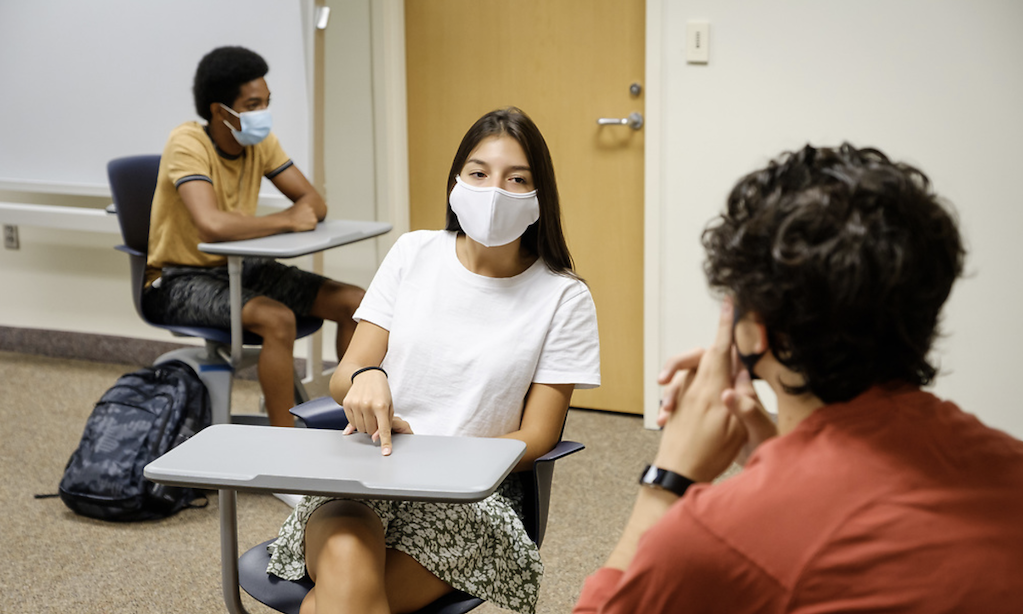 Click or tap on the course number to view more detailed information about class schedule, location, availability, and more.
HMN 212: Reading the Modern World: How Should a Person Be?
Dr. Julie Miller
Tuesday and Thursday 5:00–6:15 PM
Of the many concepts that have anchored our understanding of liberty, justice, and equality in the world we share, perhaps none has been so important yet so poorly understood as the concept of the "person." This class investigates expressions of the idea of a person in the United States and elsewhere. Studying works of history, literature, art, and philosophy from the eighteenth century to the present–beginning with the prophetic testimony of the enslaved–we will use the puzzle of the person as an occasion to think critically about personal liberty, civic belonging, moral character, political authority, and urgent questions of our own time surrounding the possibility of human freedom. The goal is for students to critically assess what the idea of a person has meant in the past in order to decide for themselves what personhood can mean today.
HMN 226: Interdisciplinary Approaches to Contemporary Fiction
Dr. Julie Miller
Tuesday and Thursday 11 AM – 12:15 PM
Before his death in 1891, novelist Herman Melville wrote that "passion, and passion in its profoundest, is not a thing demanding a palatial stage whereon to play its part." Sometimes, answers to urgent human questions are found in sprawling declarations, wars, and election returns. At other times, though, those answers are found elsewhere, in harder to see places that are small only ostensibly. This class will consider how novelists and other observers have used the story of a single (seemingly ordinary) life to gain deeper insight into a question or problem that affects us all. We'll think, too, about current events and how an encounter with just one neighbor or passing stranger can change our perceptions of the society we share and teach us how to live. Themes include displacement, racism, democracy, and the nature of love.
COM 270: Character and Cross-Cultural Communication
Dr. Lauren Mark
Tuesday and Thursday 9:30–10:45 AM
How do our habits, perceptions, and context shape who we are and how we react? How do our native language(s), cultural expectations, and modes of thought influence our interactions? We will explore unvoiced elements of the communication process and investigate how to create opportunities for connection while communicating across cultures, drawing from Buddhist, Daoist, and Confucian relational dynamics, with readings that engage these dynamics from disciplinary fields of philosophy, psychology, and communication. By moving through intercultural communication in these ways, we will strive to expand our toolbox of interpersonal skills in service of a more just, caring society and shared communal flourishing. Throughout the semester, we will approach embodied and idea-based knowing with invitations for curiosity, open-mindedness, empathy, and intellectual humility.
COM 370: Communication, Identity, and Coalition Building
Dr. Lauren Mark
Tuesday and Thursday 12:30–1:45 PM
This course will encourage us to appreciate the complexity of identity and find ways to cooperate productively across our differences. We will study the nature of identity as well as the communication strategies, skills, and character traits that contribute to coalition building among diverse groups of thinkers. We will start by exploring how contexts create dynamic identities and discover how we can learn to attend to differences that make a difference. Using intersectional theories of identity, autobiographical accounts, and case studies of coalition building, we will isolate and practice communicative strategies and strengths of character (such as curiosity, empathy, and humility) that allow us to connect and cooperate with those who are different from ourselves to make positive changes in the world.
ENV 302: Climate, Carbon, and Character
Dr. Ryan Juskus
Tuesday and Thursday 2:00–3:15 PM
How has the use of fossil fuels for heat and energy shaped contemporary conceptions of good character and good community? Has the pursuit of moral virtue and a just society driven climate change? Is there a need to decarbonize character and community? If so, what would a decarbonized vision of human flourishing look like? In this course, we will generate responses to these questions by examining the extent to which fossil fuels have shaped our conceptions of character, virtue, community, and human flourishing in the modern world. In recent years, scholars from multiple disciplines have argued that there is a two-way influence between materiality, such as coal and oil, and human life and thought. These dynamics are the object of our study in this course. In addition to engaging with developments in history, we will also explore emerging models of non-carbon intensive human flourishing and the character traits needed to sustain them. This course in energy and environmental humanities engages with perspectives drawn from history, environmental studies, ethics, religious studies, philosophy, psychology, and cultural anthropology. There are no required prerequisites.
ENV 305: Environmental Leadership and Character
Dr. Ryan Juskus 
Tuesday and Thursday 12:30–1:45 PM
What difference do qualities of leadership and character make in our collective ability to address environmental challenges? In relation to environmental issues today, what defines who you are? In what environmental story are you a character? And how can you become a good character in that story? In this course, students develop answers to these questions by examining the personal, communal, and narrative dimensions of environmental issues and how diverse leaders and communities draw on and adapt their traditions to address environmental challenges. The course examines multiple traditions of environmental leadership and character, including religious, Black, liberal, and indigenous traditions, examines the importance of particular environmental character virtues, such as wisdom, humility, wonder, and justice, and helps students articulate their personal approach to integrating environmental knowledge, moral and political commitments, religious or philosophical traditions, and self-understanding. Because there are no required prerequisites for this course, students at any level will be able to fully engage with its content.
EDU 101 A & EDU 101 B: Issues and Trends in Education: Educating Character through the Arts
Dr. Hyunju Lee
Wednesday and Friday 9–10:45 AM | Wednesday and Friday 11 AM – 12:15 PM
The course explores the contemporary foundations of character education and how to teach character in K-12 education. Through an arts-integrated approach, the course examines how character education could inspire students to cultivate character virtues and instill in them transformative leadership making changes in people and society. The focus of the course includes 1) an investigation of the various character virtues, 2) an analysis of the concepts and methods informing the design of character education, and 3) an understanding of the role of educational leaders in fostering character.
POL 115: Introduction to Political Theory
Dr. Colleen Mitchell
Monday and Wednesday 2–3:15 PM
This course introduces students to some of the most fundamental political questions: What does it mean to be 'political'? How should we live together and structure our political communities? What are our obligations to the political communities in which we live and to each another? To address these perennial political questions, we will survey major works from the history of political thought with a particular focus on the theme of justice. Throughout the course we will grapple with what justice is, how justice might be achieved, and why it is good not only for states but for individuals to be just. Students will engage closely with primary texts to gain a richer knowledge, vocabulary, and historical context for understanding and discussing politics, both in the classroom and in their daily lives. This course will help students to develop the reading, writing, and thinking skills necessary to become more informed and thoughtful about the study of politics, as well as more engaged members of their political communities.
POL 269 C: The Politics of Belonging: Character and Community
Dr. Colleen Mitchell
Tuesday and Thursday 2–3:15 PM
What does it mean to 'belong' to a political community? Who is and historically has been included and excluded from political life? How might we promote a greater sense of belonging not only in our politics but also in our own lives? In this course, we will engage primary texts from political theory that will help us to unpack the concept of 'belonging' from political, historical, and cultural perspectives. In so doing, we will consider various entities to which people belong: states, families, generations, campus communities, and even humanity more broadly. As we consider ways in which groups can establish inclusion (e.g., citizenship), we will also address barriers to inclusion and the hardships faced by those who are excluded. Throughout the semester, students will reflect on their intersecting identities and their own experiences with belonging.
EDU 120 C: Personal Framework for Career Exploration (1.5h)
Dr. Johann Ducharme (co-instructor)
Tuesday and Thursday 11:00 AM–12:15 PM
First course in the College to Career series. Focuses on student self-assessment including personal attributes such as values, interests, personality/temperament, strengths, beliefs. Begins with process of connecting student attributes with the exploration of options in the world of work. Open to all students, but designed for first- and second-year students.  Half Semester.
EDU 220 D: Options in the World of Work (1.5h)
Dr. Johann Ducharme
Tuesday and Thursday 11:00 AM–12:15 PM
Second course in the College to Career series. Explores structure of the world of work, job functions, and roles. Focus on nature and expectations of the world of work, including exploration of opportunities aligned with interests of students, and correlation between careers and education, career trajectories, graduate school, employment trends and the unique role work plays in creating meaning in the life of the individual. Open to all students, but designed for first and second year students. Half semester. P/C – EDU120 or POI
ENT 304: Creative Problem Solving
Dr. Johann Ducharme
Tuesday and Thursday 2–3:15 PM
This course is strategically designed to expose students to identify what is a problem worth solving and to instill creative, curious, and intellectually humble mindsets within them in how they arrive at their solution(s). To accomplish these tasks, this course aims to (a) facilitate the cultivation of an interdisciplinary approach to complex problem solving, (b) build a tolerance for ambiguity and risk-taking in group dynamics, and (c) foster both an awareness of and action on intellectual, moral, and performance virtues that correspond to the entire process.
SUS 601: Professional and Leadership Skills
Dr. Elizabeth Whiting Pierce 
Time TBA
How can a values-driven professional do good work within a morally flawed organization? This question matters because most organizations are thoroughly mixed bags with regard to environmental sustainability and social responsibility. Even the best organizations have room for growth. This course enables young professionals to acquire the insights, skills, and virtues needed to lead teams and organizations toward more humane and sustainable outcomes. It focuses especially on relationship-building and conflict-management skills that support value-driven leadership.